I've been meaning to review this one for a long time now. I mean, look at that cover. And that title. And it's starring
Reb Brown
! It's like a trifecta of awesome. Finally, a buddy managed to hook me up with a copy, and here we are. Let's hope it lived up to expectations.
Yor, the Hunter from the Future
has DTVC favorite Reb Brown as Yor, a mysterious cave man who appears among other cavepeople and kills a triceratops. Not a bad deal. Then he saves a woman from some bad, dirty cavemen raiders. Even better, right? The thing is though, Mr. Brown-- err, Yor-- wants to know where he comes from, and he hopes to find it on a mysterious island the natives keep telling him about.
This is every bit as amazing as I could've hoped, maybe even more. I mean really, you're going into bad Italian Z-movie Reb Brown schlockfest with a set level of expectations, and I daresay this exceeded them. Animatronic dinosaurs? Check.
Star Wars
rip-off?
Huh?
Um yeah, check. Androids? Um, okay, sure, we got those too. Hot chicks and beefcake dudes in hot cavepeople attire? Absolutely. A total fun time? Yes! I could go on and on about how fantastic this is, from the Psychedelic Furs rip-off band doing the opening credits, to some really great stuff that I don't want to ruin for you, top to bottom
Yor
fulfills your bad movie needs, and then some.
One thing I missed was some too sweet Reb Brown screaming. He had a good one at the beginning as he dispatched that triceratops, but after that it was over. He actually had a couple lines that were dubbed by some dude with a much deeper voice, which were pretty funny. Overall though, this is some pretty sweet Reb Brown, maybe not quite
Space Mutiny
,
Strike Commando
, or
Robowar
levels, but as a movie,
Yor
is a better watch than those, so it makes up for a slightly understated Reb Brown.
This is directed by Antonio Margheriti (under the name Anthony M. Dawson). He has a pretty solid B-movie filmography, including a couple with DTVC Hall of Famer
Klaus Kinski
. With
Yor
, he managed to gross over $2 million at the US box office, which was pretty big for 1983. If
Yor
is any indication of what we can expect from Margheriti, then I'm ready to get after it with him-- and I have a few titles in mind. Hello Mr. Kinski...
This is one of those ones that I could write volumes on, but I'm afraid to rob you of some of the great surprises I found when I watched it for the first time. I almost feel I've given too much away as it is, because this movie takes a sudden left turn around the hour mark, which made it all the more fantastic, but my posting pictures of it and telling you about it will have you expecting it. On the other hand, I'd feel remiss if I didn't tell you that there were androids that looked like Darth Vader, right?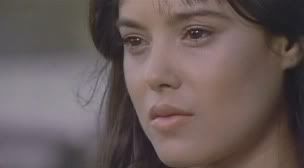 Always have to have European hotties in any movie like this. I picked her as my favorite. Reb turns down her hand in marriage because he already has a wife, even though everyone thinks he should have two. The thing is, all of these societies seem to be living hand-to-mouth, or in nomadic food foraging bands, which in either case the people probably wouldn't want multiple wives in order to keep the population manageable. Oh yeah, and there were dinosaurs. Yes, I'm exploring the Polygyny Threshold of Reb Brown's tribe, considering the fact that his character killed a dinosaur.
And with that digression, it's time to bow out, but we do so reluctantly, because this truly is a gift that keeps on giving. Gather up your buddies, and make this the focal point of a bad movie night. Hell, make it a Reb Brown-centric bad movie night. I believe this is out there on DVD, but used VHS is probably your best bet. It's worth it.
For more info:
http://www.imdb.com/title/tt0084935/