It's taken me a little while to get my hands on this one and complete the
No Retreat, No Surrender
series (see also
part 1
and
part 2
), but we've got it, so let's do it. Our friend Karl at
Fist of the B-List
has also done this one, so you should check that out too.
No Retreat, No Surrender 3
doesn't have anything to do with part 2, it just has
Loren Avedon
. Avedon plays a rebellious younger brother who runs a dojo and wears a CCCP jacket, while his brother, Keith Vitali, and his father run a private spy company. After his dad's birthday, his dad is killed by a terrorist baddie named Franco that looks like a poor man's Roland Gift with bleached hair cut in the Billy Ray Cyrus style. Now the question is, can the feuding brothers, Avedon and Vitali, get along long enough to avenge their father's death?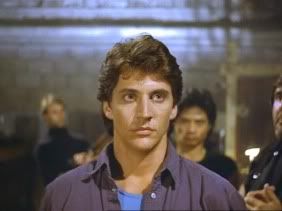 This is a bit of a tough one, but I really enjoyed it. The action, when it's there, is extremely high octane. We're talking Hong Kong cinema level martial arts and stunts, which is really exciting to watch. Then you have the bad acting, worse dialogue, and amateur level direction-- seriously, were all those boom mics showing up on purpose?-- all of which was funnier than it was annoying when set against the too sweet action. The problem for me was that there were gaps in the action that at first were funny, but as the film went on, the bad acting, dialogue, and story wasn't as funny anymore, making those gaps tedious. Still, it does recover, and really brings it with a finale worthy of the solid scenes we'd seen leading up to it. I'm giving this a recommendation strictly to bad action fans and no one else-- again, if you overuse the word "cheesy" when describing a late 80s/early 90s DTV actioner, this is probably too much for you; but if you're into great action and are willing to have fun with the bad spots, you'll be rewarded.
Really liked Loren Avedon here. I think we've brought this up before, and other sites have discussed it as well, but it's a shame Avedon hasn't been in more stuff, based on how sick his skills are. Mr. Kenner at
Movies in the Attic
told us he spoke to the man himself, and one of the things he said was Avedon had a falling out with
Lorenzo Lamas
, and Lamas made it hard for him to get work after that. If that's true that's too bad, because Avedon is almost 50 years old, so we may have missed his best years-- though at 50 he'll still be over ten years younger than
Steven Seagal
, so maybe we'll see him again.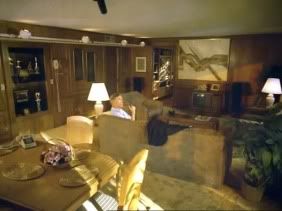 What was up with all the boom mic-age? I lost track of how many there were. And you had multiple kinds too, from the fuzzy outdoor variety, to the standard one you see here. Once or twice is a novelty that we love when watching a low-budget film, but after awhile it becomes ridiculous. Is it that hard to keep the thing from floating into the shot? I guess it is, and that's why we love you.
We've done some other Keith Vitali flicks on here,
American Kickboxer 1
,
Bloodmoon
, and
Revenge of the Ninja
. Don't know if I remember him in any of them. His acting is pretty rough-- which is hilarious-- but his fight skills are right there with Avedon's. According to imdb though, Avedon worked 4-6 hours a day to train, while Vitali came into the role out of shape. He also busted his arm for real before shooting, so it was written into the film that his arm was shot, and then the rest of the movie people made cracks about his cast. Keith Vitali, exactly what
No Retreat, No Surrender 3
needed.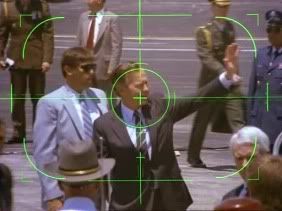 Most movies cast a veteran character actor as the President. We've seen
Roy Scheider
,
Rutger Hauer
(I know, he's not a native born American-- Birthers!), even Jerry Springer (I know, he was born in London-- Birthers!). This movie took a different tact. They used file footage of Bush 41, and acted like the villains were targeting him with a rocket launcher by drawing some green sights over it. Hey, it saves money, right? That's all public domain footage right there, you can do whatever the hell you want with it. So bad it's ingenious!
As far as I know, this is only available on VHS here in the States, but overseas you can get it on DVD-- in fact, Amazon offers a Region 2 DVD set of all three
No Retreat, No Surrender
films. I think it's really a matter of where you are in the bad action movie world. Do you love these things with absolutely no irony whatsoever? In that case, you should look for a copy of this. If you just kind of do this thing for some goofy fun to laugh at "cheesy" movies, this might be too much. To give you an idea, it wasn't too much for me, but I've had a blog for over four years where I review stuff like this on a regular basis.
For more info:
http://www.imdb.com/title/tt0100266/