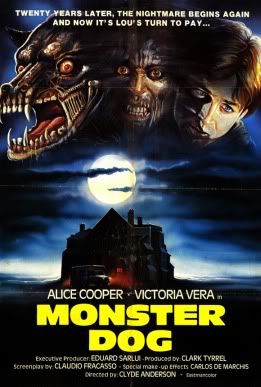 This movie was the first of three that we watched during last Saturday's Neflix Bad Movie night, which was organized by fellow bloggers at
Mr. Gables Reality
,
Morbidementia
, and
Guts and Grog Reviews
. It was a great time, where a bunch of us watched three movies on Netflix Watch Instantly and tweeted about it to each other. Keep an eye on their sites, and/or my Twitter feed and Facebook page for when the next one will be.
Monster Dog
has classic metal luminary Alice Cooper as a pop singer who goes out to his family's cabin in the woods with a bunch of friends and coworkers to shoot his next music video. Something's not quite right though, as there are fresh sandwiches in the fridge, and crazy dogs lurking. The neighbors think Alice Cooper is a werewolf, and they want him dead, but the neighbors don't look that great either, so Cooper's friends would rather take his side. Could that be their undoing?
This was a pretty fun movie. It starts and ends with an Alice Cooper music video for a song called "Identity Crises", which was pretty sweet with Cooper dressed in all kinds of outfits and whatnot. The movie itself is pure schlock, directed by the guy who did
Troll 2
, meaning if you're watching it, you can't piss on hospitality. As far as the werewolf aspect goes, I'm not sure it's even there. It's mostly just dogs biting people, like a really bad episode of the
People's Court
, and then at the end Alice Cooper turns into more of a were-Elliot Gould than a werewolf, which is pretty funny, but might not be what you're looking for if you're in the market for a werewolf movie. Then there's all the silly stuff thrown in, like an inexplicable empty milk carton on the dash of Cooper's van, random sandwiches in the fridge, and Cooper's $9.99 sweater he got at Sears-- very befitting a rockstar. A perfect choice for a bad movie night.
My first introduction to Alice Cooper came when I was in fourth grade, through the song "Poison", which was a very popular Hair Metal track at that time. My fourth grade teacher (named Mrs. Kruger, which automatically made her a little scary) overheard a few of us talking about it, and she told us about his stuff from the 70s that she grew up with. This was before the age of the Internet, so we had to rely on her showing us some albums and stuff, which was probably a lot cooler than Googling it would've been. As far as
Monster Dog
goes, Cooper is the main attraction, and whether he disappoints or not might be debatable, but the novelty of him never wears off, which is all you can ask for as far as I'm concerned-- though no one was beheaded, which was a disappointment for me.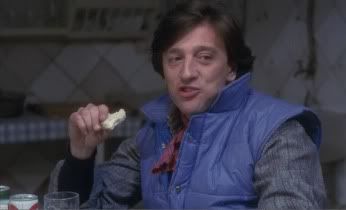 Do any of you MSTies recognize this guy? He was the manager from
Pod People
. Unfortunately the "It stinks!" guy wasn't in this as well, and also no one broke their neck from a high fall requiring the manager guy to carry her off, making sure he jiggled her spine around some more. This movie could've used some Trumpy, I'll tell you that. Alice Cooper vs. Trumpy: this time it's personal!
The female lead in this, Victoria Vera, looked hotter and hotter the more disheveled she became. That's good stuff right there, and something modern horror directors need to take note of. Torture porn is just gross, give me a chick that looks even better with fake blood and messed up hair than she did earlier in the film with her hair and make-up done perfectly. Her character was kind of all over the place, between just being a pretty face, to gradually turning into a tough chick with a shotgun and a sweater torn into Jennifer Beal mode. This is Scream Queen done right.
I worked with a guy who saw Europe in concert, and he said they opened a closed with "The Final Countdown", and since
Monster Dog
opened and closed with the same Alice Cooper song, I figured I'd open and close with Cooper as well. First, his voice in the English version is not his, someone else dubbed it. It sounds pretty close to it, so I was fooled. Second, Cooper can play in all the golf tournaments and open all the restaurants in Arizona, but he'll never escape this bad boy as long as people like us are fighting the good fight and reminding people. I got your
Man vs. Food
right here baby, and it's in the form of a were-Elliot Gould! Finally, it was really cool to go back and revisit some of those Hair Metal era Cooper songs over at his
YouTube VEVO page
. I embedded a couple on the
image page
.
As far as the movie goes, this is a great choice for a bad movie night, it has all the elements you'd want, from the badly dubbed dialog, the schlock special effects, random elements like a milk carton on the van's dash, and finally the novelty of Alice Cooper. You can't go wrong here. As far as the Netflix Bad Movie night went, that was great as well, so thanks to Mr. Gable, Morbidimentia, Tromeric at Guts and Grog, and everyone else for having me along, and I can't wait until the next one!
For more info:
http://www.imdb.com/title/tt0087616/