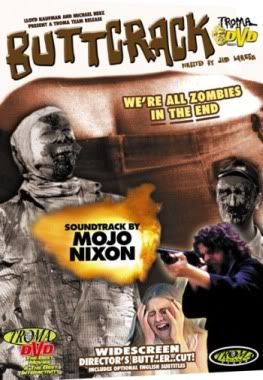 I first came across this movie at Barnes and Noble with my friend in the summer of 2001. That was a summer filled with trips to record stores, book stores, comic book stores, and the local truck stop to play
Galaga
. The summer ended with a trip to San Diego, so don't think we did nothing-- though to say becoming a
Galaga
expert and finding awesome film gems like this is doing nothing is a tad judgmental-- even if it's me saying it.
Buttcrack
is about a guy named Brian who wants to take things to the next level with his girlfriend, but he has to bide his time until the semester's over. Why? Because then he can get rid of his nightmare roommate, Wade. Wade's a slob, constantly interrupts Bryan when he wants privacy with his woman, and worst of all, never pulls his pants up, which leads to his gross buttcrack showing at all times. After an incident where said anal cleavage makes his girlfriend puke on Wade, Brian confronts him in the tub. One thing leads to another, Wade's radio ends up in the water, and Wade dies. His sister suspects Brian of foul play, and to get revenge, she puts a curse on Wade, making him walk the earth as a zombie, until he kills Brian. Worst part, whenever someone sees his zombified buttcrack, they become zombies too.
Do you need me to tell you how awesome this is? I hope not. One thing I left out in the synopsis, the great Mojo Nixon plays Preacher Man Bob, and he's as amazing as you can imagine he would be, giving some fantastic sermons. Beyond the movie, which comes in in a quick 68 minutes, the
Troma
DVD comes loaded with goodies, including a Lloyd Kaufman intro (complete with his buttcrack); two commentaries, one with the director, and one with the producer; and Mojo Nixon interviews and a live performance of "Debbie Gibson is Pregnant with my Two-Headed Love Child". This is what you came for.
The buttcrack aspect is hilarious. It's not always there, but it's there enough. In the director's commentary, Jim Larson says he started with the idea of a movie about an obnoxious guy whose buttcrack is always showing, and then didn't know what to do with it, so he added the zombie aspect after. With Wade, he does some new things with the zombie too, because instead of being aggressive and bloodthirsty, Wade really could care less and would rather just play Atari or go back to being dead. Then the idea of the buttcrack turning people who see it into zombies-- zombies of a more traditional nature-- is pure genius. That's right, pure genius to me involves buttcracks and zombies.
That summer that we were first introduced to
Buttcrack
came when I was still in college, and of course, I brought the movie back to campus with me in the fall. That's when it became apparent that the star, Brian, looked a lot like one of our friends up there. Not only looked like him, but they shared a lot of mannerisms. Of course, said buddy couldn't see the resemblance. "What do you mean we make the same faces? Like what?" "That that, that's the kind of face right there!" Watching it now after all these years, it's still amazing how much it resembles him-- if only he grew out his hair to feathered mullet length.
This is not our first experience with butt cleavage is it?
Tekken
had it too, though of a slightly different variety. There we had a woman in a pair of tight leather pants, laced up in the back so the top of the ass was showing in a way that made it look like chest cleavage. It looked kind of hot actually. This definitely did not, this was the real deal, a heavy dude's pasty white pimply buttocks peaking out of the top of his jeans. I don't know though, I've never found that kind of thing disgusting, more like hilarious; and I think it was even funnier in the movie when everyone else found it so disgusting.
Mojo Nixon kills it as Preacher Man Bob. Who wouldn't want this guy doing their funeral or wedding? I put a clip on the image page from YouTube of him performing "Debbie Gibson is Pregnant with My Two-Headed Love Child" on
120 Minutes
, but the one he did in the extras on the DVD is even better. Instead of saying "Rick Astley is a panty waist" he says Dave Matthews instead, which at that time, for my buddy and me, made him one of the coolest people ever, because we'd had it with the whole Dave Matthews thing. There's a radio interview he does promoting the movie that's great too. The more Mojo Nixon the better.
Get this on DVD. I don't know if there's another one from the one I got in the early 2000s (ten years ago!), so just make sure the one you get is loaded with goodies. As far as the movie itself, this is what no-budget is all about. You can't go wrong with
Buttcrack
.
For more info:
http://www.imdb.com/title/tt0191019/