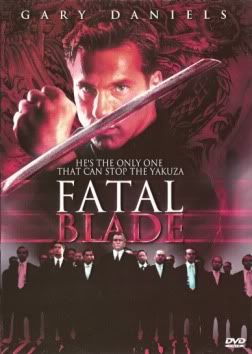 I got this along with
City of Fear
. We're making our way through the
Gary Daniels
DTV filmography, and these are some that I probably should've done a while ago, but they slipped through the cracks. Also, this is Gary Daniels's 37th tag, meaning he now has the most all time of any actor, surpassing
Dolph Lundgren
. It's like Hank Aaron passing Babe Ruth for most home runs-- only Dolph is still playing, so there will probably be a little back and forth between these two.
Fatal Blade
starts with a gang war in LA between a dude named Bronson and the local Yakuza. To take Bronson out, the Yakuza call in a hitman from Japan. As luck would have it, he goes to hit Bronson while LAPD detective Gary Daniels and his partner have him under surveillance, meaning everyone's on a collision course to wackiness. But it only gets wackier at the station, when a Japanese national is refuting her extradition order, and she pulls a cop's gun, which just happens to help the Yakuza hitman escape, yadda yadda yadda, long story short, Daniels partner ends up dead, he blames the Yakuza guy, when it's really the local Yakuza guy, and now everyone wants revenge on someone. Will Daniels be the last man standing?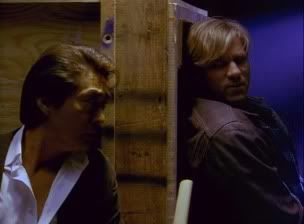 I liked this. It had a really cool Hong Kong/Nikkatsu Noir feel to it, and while it wasn't as great as some of that stuff, it was still pretty serviceable. Daniels had some really nice fights, including one with
James Lew
, that had a really fast-paced Hong Kong feel to them; and then the two Japanese actors playing the main two Yakuza dudes really exuded that Seijun Suzuki style cool that worked really well. There were a few things that would've helped it though: better music, instead of that stock crap; a tighter story, with maybe more action; and if the Daniels/Yakuza hitman team-up had been on-screen more, because we really only get it twice, but it was a cool dynamic. Overall, this is a decent bad actioner, more 90s than 2000s, maybe a little afraid to turn the calendar over, but we love that kind of thing.
If there were ever any questions about Daniels's ability as a martial arts action lead, they were all put to rest here. He brings it in some real heavy-duty fast-paced scenes, totally up to the challenge. I would've liked, in the spirit of the movies that this one came from, to have seen Daniels in some cooler clothes, like maybe a gaudy suit, as opposed to the J.Crew catalog mainstays they put him in. You'd never see Chow Yun-fat dressed like that.
I don't know if there's a Japanese version of the Direct to Video Connoisseur, but two guys that might feature prominently on that site were in this film, Kiyoshi Nakajo and Kentaro Shimizu, the former playing the Yakuza hitman, and the latter the local LA Yakuza boss. I looked them up on imdb, and they're in a bunch of Japanese flicks with the word "video" in parenthesis after the date. I can only imagine how cool they are, because they're pretty sweet here, both really playing up the Nikkatsu Noir aesthetic. Maybe I'll have to check out some of these Japanese DTV flicks.
A quick round up of some of the other cats in this: veteran character actor Jack McGee has two scenes as a cop at a desk. Out of everyone in the movie, he would go on to have the most prodigious career, including a part as Marky Mark's dad in the Oscar nominated
The Fighter
. I already mentioned James Lew, who has a small part as one of the henchmen of the local Yakuza boss. The best part with that came when the hitman accosted him, looking for his boss, and he's speaking in Japanese, while Lew is responding in English because, as we all know, he isn't Japanese! It was like Han Solo talking to Greedo in
Star Wars
. (
Greedo, whoa-oh-a-oh!
) Then we had a novelty cameo in the person of Cuba Gooding Sr. I'm not kidding, he plays a pawn broker in one scene. I wonder what
Cuba Gooding Jr.
thought of that.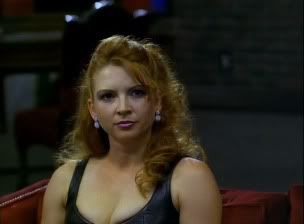 With this scene above, we have a few things going on. First, bigger hair, probably more at home five or six years before, and the vermilion lipstick isn't doing her any favors either. I'm not sure how I'd feel if I met a girl with no lipstick on and straight hair who showed up to our first date looking like that from the neck up, but I imagine I'd be a tad disappointed, and you can see why Daniels, who had been in a long-term relationship with her, ditched her to pursue his partner's killer. But then you throw in the black leather dress, and all bets are off. Now it's like "whoa, Gary, baby, what are you doing ditching her, she's hot!" But that's why Mr. Daniels is Mr. Daniels and we're us, because he's confident enough to know that he can ditch her, even looking as hot as she is, and will still have a love scene with her ten minutes later. That's Gary Daniels if you need him. And ladies, if you have your eye on a man out there, leather is one of the fastest ways to his heart-- vermilion lipstick, notsomuch.
And with that, we might as well wrap this up. We've seen a lot better from Gary Daniels, and we've seen a lot worse. This had it's moments, and while it had some dead spots, it also had some really solid action and great martial arts sequences. If you see this for a couple bucks in a bargain bin, I'd pull the trigger.
For more info:
http://www.imdb.com/title/tt0243920/