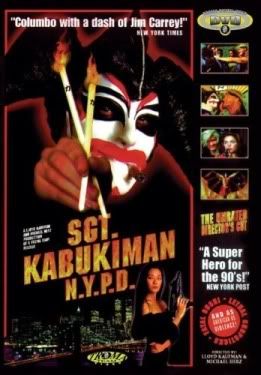 We've hit another milestone here at the DTVC, 750 posts, and in honor of that, I saved one of my all time favorites to review,
Sgt. Kabukiman N.Y.P.D.
I actually saw this one later on in my B-movie watching career, finding it with a buddy at our local video store in 2000. Not only did we quickly attach two VCRs together to make ourselves a copy because we enjoyed it so much, a couple years later when I bought a DVD player after graduating from college, I went to the Troma website and picked this up as one of the first DVDs in my new collection. A true classic, and thoroughly worthy of a milestone like this.
Sgt. Kabukiman N.Y.P.D.
follows police detective Harry Griswold, who is sent to investigate the grisly murder of a family, including the wife who was thrown out of a building. In her hands were tickets to a local Kabuki show, so he attends. As luck would have it, the place is attacked by machine gun toting thugs, Griswold tries to fight back, and in the scuffle finds himself on top of one of the actors, an old Japanese man who kisses him before he dies. That's when strange things start happening to him. The old man's granddaughter informs him that he's been imbued with the superhero spirit of the Kabuki warrior, and he uses that power to clean up the city. The only problem is the evil businessman who perpetrated the initial attack is still out there, and he and Griswold are on a collision course to wackiness.
This is
Troma
at it's best. It pushes the envelope in all the right ways, is funny, gory, and a lot of fun. It's really the Lloyd Kaufman take on the action hero film and the detective Noir, and it's everything you'd want and expect for that. When I first saw this, I was still pretty new to Troma, so for me it was just this 90-minute awesomefest where I felt like Mr. Kaufman, Michael Herz, and the whole Troma team had invaded my brain and made the exact movie I wanted to see. Even better, on the DVD you get Lloyd Kaufman's commentary, which just adds another level as he tells all kinds of stories about what went on as they were filming. This is a classic, pure and simple.
Part of the reason why I didn't start including Troma films until recently is that I felt they weren't exactly DTV. They have more of an independent movie spirit, and this one is a great example of that. Kaufman said they screened this at Cannes 5 years in a row or something, and they tried like troopers to get it a wide theatrical distribution here in the States, but it never came off. I guess, though, in that vein, it truly is a DTV flick, because it tried to get a theatrical release, but ultimately had to settle for the US video market. Either way, this movie,
Sgt. Kabukiman N.Y.P.D.
, because of the special place it has in my heart, wasn't going to be reviewed any earlier than 750 anyway-- it needed to be saved for this milestone post.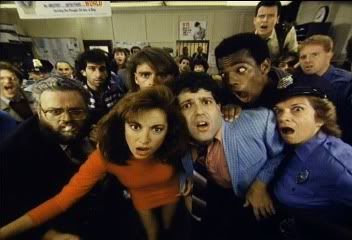 One of the things we learn in the commentary is how the film's Japanese backers-- which included Namco, makers of my favorite video game ever,
Galaga
-- thought Troma were making a family friendly superhero movie that could be turned into cartoons and a bigger consumer franchise. Even Rick Giansi, who played Sgt. Kabukiman, told Kaufman about how kids would come to the shoots and get all excited when they saw him in costume. As we know, Lloyd had other ideas, and this wasn't exactly the next Batman. I loved though how they made fun of classic superhero conventions, like those in Batman, and Superman too with Kabukiman and Lotus flying over the city. For me this movie is almost perfect, so I'm glad they didn't try to make the next Batman-- though I'd love to have bought into a whole Kabukiman franchise.
Another hallmark of Troma films is the social critique they insert into the movies, and this wasn't short on that either. Especially big in 1990 was the "Buy American" fear mongering that went around based on the perceived Japanese business takeover of the American market. For Kabukiman, it's all about merging the two lifestyles, not picking one over the other, which was a very different tune to the one that politicians were singing, in particular in New York, where Rockefeller Center had been recently bought by Japanese businessmen. Kaufman and co. were also quick to make sure they made fun of both cultures equally, which I liked. Then there was the case of the Central Park jogger, a woman who was brutally raped and beaten almost to the point of death, which Kaufman draws on when Griswold's partner is brutally attacked on a run in the park, and when Kabukiman kicks their asses, the thugs are seen as the victims. These are often subtle additions, but they make the Troma film that much more than just an out and out schlockfest.
Susan Byun is the only person in this as far as I can tell that we've seen anywhere else before. She was in the
Gary Daniels
film
Deadly Target
. I don't know what happened to her, because other than a few more DTV roles and some small parts in TV shows, she didn't do much else, and hasn't done anything since 1998. She's pretty enough, and is a solid actress, so maybe she just got sick of it. Maybe there weren't enough well-rounded roles for Asian women out there either. In
Sgt. Kabukiman N.Y.P.D.
she plays the granddaughter/trainer/love interest, and does all really well, especially when she has to do it in that Troma tongue-in-cheek style. She also looks really hot in her skimpy black dresses. Ladies, one of the fastest ways to a man's heart is the skimpy black dress, and it works no matter what your figure. It's like the socialism of outfits.
One of the scenes that floored me when I first saw it was when Griswold thinks he's transforming into Kabukiman, but instead turns into a party clown. The whole thing is ridiculous, down to him escaping on a kid's bike that gets run over by a truck and converted into a unicycle. He's breathing fire, pulling lengths of knotted hankies out of his sleeves, firing glitter at the baddies, and then the whole thing ends with one car flipping over and exploding, and another crashing into a dry cleaning business. One of my mine and my buddy's favorite lines comes in the aftermath, when the cops swoop in, thinking Griswold as the clown perpetrated the crimes. He tells them who he his, and one of the cops says "holy shit it is Griswold!" There's nothing like a good clown scene that works, followed by a cop using profanity in a moment of shock.
Despite how perfect this movie has always been to me, one scene that always stood out like a sore thumb was this one here, where Kabukiman kills a prostitute and her pimp by cutting them into a roll of sushi. I don't know, it just seemed a little macabre compared to the rest of the tone of the film. As it turned out, I wasn't the only one who thought so. In the commentary Lloyd Kaufman said that Rick Giansi was also against it, saying it betrayed the kind of character they were going for with Kabukiman, but Kaufman kept it for the dark humor aspect of it-- which I get and do love actually--, only to find in screenings that that scene didn't play well. The one he cut as a favor to Giansi instead of this was one where Kabukiman turned a rope into a snake and had it go up some bad guy's butt to kill him. I'm laughing even as I type that, so it's too bad that didn't make it in.
But everything else that did make it in makes this plenty worth it. I went to the
Troma website
to check this out, and it looks like they're selling the same DVD I bought over ten years ago, which is great (as of this posting it's out of stock, but I can't imagine that will be the case forever). The other thing about that DVD is it's region free, so everyone everywhere can see it. I suggest you do, because this is a totally fun time. I posted about twenty additional screen shots on the image page, plus I embedded the music video of the Sgt. Kabukiman theme song from YouTube. All worth checking out too.
For more info:
http://www.imdb.com/title/tt0117609/