This is it, this is
Martin Kove's
Hall of Fame induction post. Like many Hall of Famers before him, he has a lot of movies where he only played a small part, but as we'll see in a film like this, he's plenty capable of carrying the lead too, which is the mark of a true DTVC Hall of Fame actor. So without further ado... by the way, this has been covered before by Kenner at
Movies in the Attic
and Ty at
Comeuppance Reviews
-- and it's from Ty's that I hotlinked the cover image, so as always, just wanted to let you know.
Steele Justice
has Kove as a Vietnam vet who's almost killed by the villainous General Kwan (Soon-Tek Oh) in the waning days of the war. He gets the last laugh, shoots a dart or something into the guy's chest, and heads home. In modern (1987) SoCal, Kove is a disgraced former cop whose former Vietnam and police partner is killed by Vietnamese gangsters-- and it smells like Kwan's work. His old chief, Ronny Cox, suspects that this could be a tough nut to crack, so he unleashes Kove unofficially on Kwan, with only his old buddy Bernie Casey to help out. Will he crack the case, or is he just too far gone to pull it off?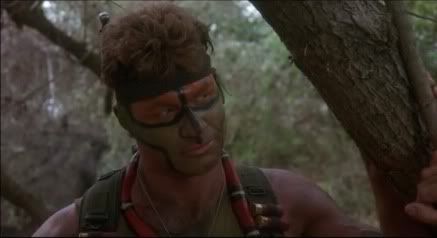 This one starts off slowly, but once it kicks in, it's pure 80s bad action, the kind of car flipping, stuntmen shimmying, monster rock montage-ing, shirtless male big gun shooting good time you came for. Let's take this one quote from Ronny Cox after Bernie Casey asks him if Kove has his old job back: "He isn't being recruited, he's being unleashed!" And after about thirty minutes of a drunken Kove in bad suits getting the crap kicked out of him, this film finally unleashes him on us, and it's oh so sweet. I embedded a YouTube clip of the too sweet montage clip on the
image page
-- it's only 1:30 minutes, with 30 seconds to start of a scene with he and Sela Ward dubbed in Spanish, just bear with that--, and I'll be posting some of the others on the
DTVC Tumblr
. This is just a fun time, plain and simple.
Martin Kove really can do it all, can't he? Lead star, lead baddie, cameo, baddie's hatchetman-- though if the head baddie isn't cool enough, having him as the hatchetman can backfire. This might be his best DTV flick-- er sorry,
Steele Justice
made a little over $1 million in the box office (sometimes people get nervous if I call a film that had a limited theatrical release DTV)-- definitely one of his best outside of the
Karate Kid
movies, which he's best known for. He's inducted into the Hall of Fame with this as his 13th movie, but with over 167 imdb credits, he has the potential for plenty more, maybe making a run at the overall tagging record. Martin Kove, DTVC Hall of Famer.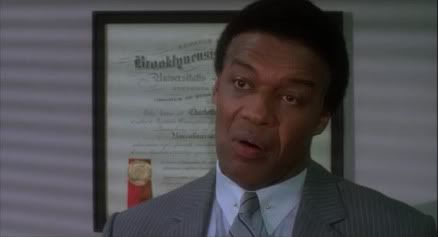 I had a lot of places to go for this paragraph with all the people in
Steele Justice
, but I decided to look at Renaissance Man Bernie Casey, who we've seen before in the
Fred Williamson
film
On the Edge
. He's great here as the Danny Glover-ish "I'm too old for this shit" detective who's close to early retirement, wants to get there in one piece, but knows that probably won't happen the longer he stays with Kove. Have you looked at his bio? You probably know about the pro football career, but he also has a BA and MA from Bowling Green, is an accomplished painter, and has published poetry books. The question you gotta ask yourself is, why the hell is he in this?, and I think the answer to that is he same he gave for why he played football: it pays the bills so he can pursue his art. Here's to you Bernie Casey, we're not worthy.
Now to look at everyone else. There was the always attractive Sela Ward as Kove's estranged wife. She mixed it up some in the action scenes, and played off Kove really well. DTVC favorite Ronny Cox was sweet as the dick police chief, but when is he not sweet? Not quite
One Man Force
good, but close enough. A personal fave for me was Joseph Campanella as Kove's old commanding officer. You may remember him best as the dad in
No Retreat, No Surrender 3
. The guy is 84 and still working.
Shannon Tweed
had a small cameo as I don't know who, maybe Campanella's daughter, but she was doing business with Soon-Tek Oh, who was also great as the main baddie. It seems like when you get these 80s actioners, the cast takes them more seriously than they would in a 2011 one, and though I get that the material might not be that serious, the fact that they all acquit themselves professionally adds to our level of enjoyment.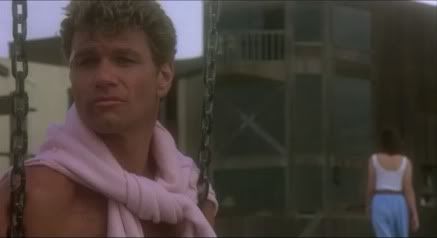 I inherited my complexion from my mom's Irish side of the family, meaning I don't tan that well, but if I did, you can bet shirtless with a pink sweatshirt tied around my shoulders is how I'd go during the summer months. It kind of makes me want to go to a tanning booth or get a sprayed on tan just to be able to do it-- no, I'm not shredded like Kove is, but I wouldn't be doing it for the ladies, I'd be doing it for me.
Um, so yeah, let's finish this one up. Though it starts slow, once it decides to finally "unleash" Kove upon us, it's a film worthy of his induction post. No DVD here in the States, so either used VHS, or for right now you can get it on Netflix Watch Instantly. This is definitely worth a look.
For more info:
http://www.imdb.com/title/tt0094034/