I got this
Gary Daniels
flick with another of his recently, and I'm not sure why I went with this one over the other one, but I did. I'm a sucker for Canuxploitation flicks shot in Bulgaria I guess. Also, this is Daniels's 35th tag, putting him one behind Dolph for most all time by an actor. I do have four
Dolph
movies from the big screen I could go to if I needed to keep him ahead, but really, it's only a matter of time before Daniels catches him.
City of Fear
is an action remake of
The Third Man
, an Orson Welles flick from the 40s. Daniels plays an American writer who is approached by some people from Bulgaria that inform him that his buddy is dead over there. So he goes, and finds out his buddy's death may not have been an accident. Now he's investigating, and every step brings him deeper into the web, and deeper into a series of fight scenes and chases. Not to mention, his buddy dated a hottie nightclub dancer, so that works.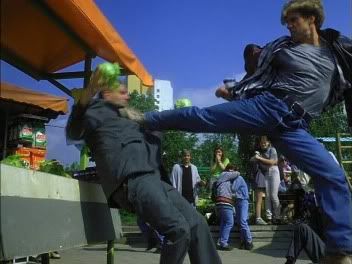 We've seen an attempt previously to do the
Third Man
paradigm,
Blood Warriors
, and like that one, this one was okay, but nothing spectacular. The problem is,
The Third Man
sounds like a better idea for an action film than it is in practice. To build the suspense in between the action scenes, you need really good actors, which, action actors often aren't that. What that means is we're left with a lot of fluff, and with the paint-by-numbers/ticking-off-all-the-boxes tone of the action-- the only thing we were missing was the exploding helicopter--, we're left with nothing special that's pretty take-it-or-leave-it. Can I get more cliches in one paragraph? Well, at the end of the day, I need to stay within myself as I write this review, because I have to look myself in the mirror afterwards. Like they say, it's not about the size of the reviewer in the fight, it's about the size of the fight in the reviewer.
What do we do with Gary Daniels here? Decent martial arts, but nothing special. Also, for some reason, he's playing an American, which makes no sense. Is that really necessary when his character is spending his entire time in Sofia? I never really got that, do they think us Yanks won't identify with someone from across the pond? He still doesn't sound very American. The biggest issue this movie had was that it was hamstrung by its
Third Man
plot, so it played out like a
Bloodfist
sequel, only with less action and more story, which worked to Daniels's detriment.
City of Fear
was a little ahead of the curve by shooting in Bulgaria, though only a few years later it would become a much more common B-movie destination. I wonder what it's like for the cast and crew of something like that. What kind of accommodations do they get? I follow
Michael Jai White
on Twitter, and he mentioned how hot the women were at the clubs while he was over there shooting recently. Was that a perk that got Daniels on board, or was he married by then? I wonder what things I'd want if I were over there... I'd probably stay out of the clubs though. I'm no Michael Jai White, I'd probably end up in a bathtub full of ice sans my kidneys.
As I said above,
City of Fear
did every bad action cliche in as much of a cover-all-the-bases manner as possible-- of course, except for the helicopter explosion, which was conspicuous in its absence. The worst of these is the at home surgery session. You know how it works, hero gets shot, or his woman gets shot, they go to some safe house, boil some water, heat some knives on the stove, and go to work. Here it felt so grafted on, when out of nowhere the woman gets stabbed in the leg, and Daniels takes her home and patches her up, then it goes into the next action mainstay, the love scene. After was even better, because she had her bandage wrapped around the outside of her jeans. I'm not kidding.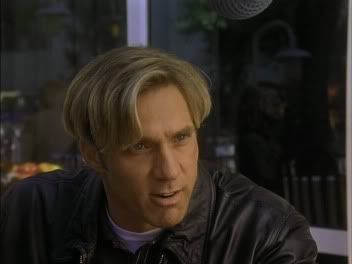 Finally, check out that massive boom mic up there. That's not your run-of-the-mill black stick mic, that's like the size of a grapefruit. What is that, a throwback from the Iron Curtain days? It looks like it wants to eat Daniels's head. I think that's the way to go though if you going the boom mic route, make it a huge bastard. Or go the
No Retreat No Surrender 3
route and just have a shitload of them.
With so many great Gary Daniels flicks out there, this is too lackluster and paint-by-numbers to recommend. This is available used or new on DVD, so maybe if you're a Gary Daniels completist. Otherwise, I'd stay away.
For more info:
http://www.imdb.com/title/tt0193065/