When I heard that the great
Charles Napier
passed away, a bunch of potential movies for a tribute post popped into my head, but none of them felt quite right, because they featured Napier in his usual supporting role. That just wouldn't cut it here. Then I thought of
Deep Space
, which also just happened to be on Watch Instantly. Now
this
will do.
Deep Space
is a
Fred Olen Ray
directed piece that actually has nothing to do with deep space. The US government has engineered a killing monster and keeps it incubated in a satellite orbiting above the earth, the idea being they send the satellite down to wreak havoc on a country that might threaten democracy, freedom, and money. Something goes wrong though, and the thing crash lands in SoCal, prompting a meddling teen and his girlfriend to investigate, and wake the thing up. When police detective Napier is sent out to investigate, things don't add up, so he pursues it, along with his buddy (Ron Glass from
Barney Miller
fame), and against police chief Bo Svenson's wishes. The question is, can even the great Charles Napier kill the ultimate killing machine?
This movie would've been perfect had the end scenes not been so dark that I could barely make them out. Otherwise, everything else was great. Maybe my screen was too dark, but I doubt it. Anyway, this was pretty solid Fred Olen Ray fare, schlock horror, sci-fi, and action all mixed into one for a fun time; but the thing takes on another level with Napier as the lead. As great as he is as a supporting character, he's that much better when it's his show. He also carried a lot of the down times that would've torpedoed this with a lesser actor. Overall, I think you'll enjoy this, and maybe you'll have more luck with the ending being dark than I did.
If we needed to do an In Memoriam post for Charles Napier, this is one the best ones to choose. We see him in a kilt playing the bagpipes, we see him in an apron cooking steaks, we even see him in bed after a long night of drinking answering the phone with a pair of panties draped around it. And that's not even getting to how much ass he kicks. In one scene he's chasing one of the monster's spawn into this woman's house, and she's cowering in the corner afraid of it. He says to her "Let me borrow your bat and I'll go after it." Not "give me your bat" or "give me the goddamn bat lady!", but in a calm, polite manner "let me borrow your bat." Then, when the thing attacks her, he gets her to push it into the air, so he can bat it through the window. If you're a Napier fan and haven't seen this, put it on your list.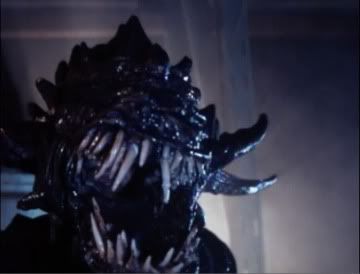 You'll notice that the alien looks kind of like the one from
Alien
. He attacks people in a more
The Thing
kind of way, with tentacles that come out of his body and pull people to him. From there, it's just buckets of blood tossed on the wall. I like all of that stuff. Sure, it's good to have great special effects, but a bucket of blood splashed on the wall and some screaming in the background is good too. What I can't abide is making the scene so dark I can't make out the action, especially when I want to see Napier going at this alien thing with a chainsaw. Fred Olen Ray giveth, and Fred Olen ray taketh away.
I loved the Ron Glass. Growing up, my parents always watched
Barney Miller
, though I really don't remember any episodes specifically. Seeing Glass here makes me want to go back and see some old
Barney Miller
episodes. Unfortunately, they aren't on Watch Instantly or Hulu, or even TV Land. What's the point of having a channel like TV Land if it doesn't show
Barney Miller
?
Speaking of TV shows I love, we had Julie Newmar here as a psychic or something that gave Napier anonymous tips on the case. We all know her as the first Catwoman on one of my favorite shows of all time,
Batman
. You may recall we had the voice of Eartha Kitt in
Pink Chiquitas
, meaning we only need a Lee Meriwether to have all the Catwomen on here. Of course, during our look at comic book movies back when I did Wild Card posts, we also reviewed
Catwoman
-- I won't say anything else.
If you miss this while it's on Netflix Watch Instantly, then the only other way to make it happen is used VHS. I think, if you're a big Napier fan, or a fan of camp Sci-Fi, this is worth it, especially as a cheap bargain bin find. Keep your eyes peeled for it, I think you'll have a fun time.
For more info:
http://www.imdb.com/title/tt0092863/