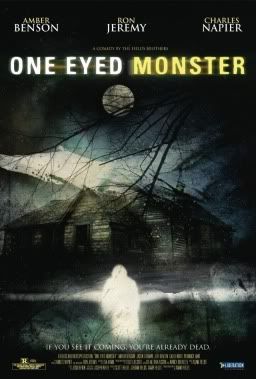 This movie was the second of three for October's edition of the
Netflix Bad Movie Night
, and let's just say it didn't have it's work cut out for it, because the film before it,
Die You Zombie Bastards!
, hurt immensely.
One-Eyed Monster
could've been based on a 1000-page L. Ron Hubbard novel, and it still would've looked promising compared to
Die You Zombie Bastards!
Fortunately it wasn't based on a Hubbard book, it was pretty decent, and it featured one of the best movie monologues I've ever seen.
One-Eyed Monster
is about a porn film that's shooting in a remote cabin in the mountains of Northern California during a blizzard. Then something strange happens. Ron Jeremy loses control of his penis as he's doing a woman from behind, and the next thing you know, his manhood is disarticulated and running around on the floor, and Jeremy dies. Long story short: an alien life force has taken over Ron Jeremy in order to spawn its alien babies and take over the world, and based on it's calculations, the rest of Ron Jeremy's body is deemed superfluous, so it's dumped. Now the gang needs to fight back as this murderous member picks them off one by one in grizzly fashion. Can the addition of a mysterious old man from out in the storm turn the tide in their favor?
This isn't as bad or as lowest common denominator as the synopsis might sound. Sure, some of the dick jokes are a bit much or a bit expected, but for the most part it's a pretty funny idea and is carried off well. Oh yeah, and then there's
Charles Napier
. That's right,
the
Charles Napier. He's the mysterious old guy, and he straight kills it. It's like someone came to him with the idea of the plot, he instantly got what they were going for, and he was all in. And his monologue (which
is
on YouTube, so I embedded it on the
image page
and will be posting it to the
Tumblr
) is easily one of the best I've ever seen in a movie. That alone is worth the price of admission. On the other hand, this could've used more Napier, and if I have one main complaint, it's that, because the quality drops drastically once he departs. Still, overall, it's not horrible, it's pretty fun actually, and might be worth checking out.
We usually don't associate the late Charles Napier with comedic roles, but should we be surprised when he can pull it off so well? And not only does he pull it off, but the way he completely steps into the movie and picks it up on his shoulders and carries it for his time on-screen is great to watch. This is only a semi-decent horror comedy until Napier shows up, then it becomes something much more awesome, the kind of thing where I'm like "you gotta see this!"
One of the many things us people who write blogs have to consider is whether or not we want to go full out obscenity and stick the parental warning on it, or if we want to keep it clean and open it up to everyone. As you can see, I've gone the latter route, and I've done that because I started watching movies like this when I was in my early teens (actually even younger), and I want to make sure kids that young can come and learn about these movies that were, in many cases, released before they were born. What that means, though, is reviewing a movie about a killer penis isn't always easy. I'll say this though: this is not an X-rated film, and nothing a kid who's seen any R-rated flick couldn't handle-- just has a little more male genitalia than you're probably used to.
This did have a few other names in it. We already mentioned Ron Jeremy. He dies early on. They keep saying in the credits that they're "introducing" him, even though he was
Orgazmo
, so it was obviously a joke, but not a very funny one.
Buffy
fans will recognize Amber Benson, who played a member of the porn movie crew, like craft services or something, and then she's impregnated by the One-Eyed Monster. Going out a bit on a limb, we had also Jeff Denton as the porn director. Denton has starred in some early
Asylum
films, including one we've done,
Transmorphers
.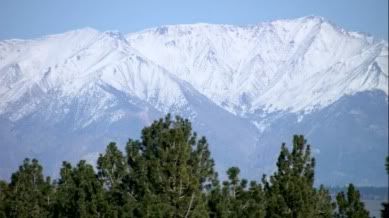 As you may know, I'm a sucker for mountains in my movies, and considering it made for a good substitute to showing a prosthetic penis and getting my blog flagged for inappropriate content, I figured I'd go with it in this spot. Not sure what peaks those are. The film was shot in Mammoth Lake, California, so maybe someone has a better idea-- or maybe they aren't even from there, they're just file mountains that were taken from somewhere else. Either way, I definitely want to hike them.
But enough of that, we don't want to give people the impression that I'm not just a dude living in his parents basement getting fat off of mac n' cheese, and hiking goes against that image. What we do here when I'm not hiking is review movies, and this one, mostly on the strength of the great Charles Napier for a segment of the middle of it, is pretty sweet. At the very least, go to the image page or Tumblr and see what you think of that monologue, then take it from there.
For more info:
http://www.imdb.com/title/tt0988043/