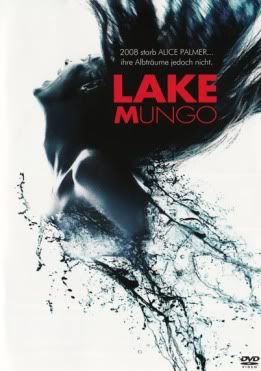 For the month of October, our friend Francisco over at
The Film Connoisseur
is doing a Halloween theme centered on supernatural films, and wanted to know if I wouldn't mind looking at that horror subgenre from the DTV angle. I said sure, but as I haven't reviewed too many before-- and many of the ones I have reviewed weren't that great-- I asked if he had some suggestions that I could take a look at in addition to the ones I'd already seen and was considering for inclusion. This was one of the ones he mentioned.
Lake Mungo
is an Australian flick, presented in a TV documentary format, that looks at a family whose daughter drowns, and the mysterious happenings at their house afterwards. It's told through a combination of interviews, home videos, family photos. What is this family seeing? Has their dead daughter really come back to haunt them? What secrets was she hiding? And what are the motives behind a famous psychic who takes one her case for the family's mother?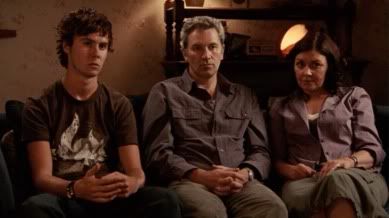 I really enjoyed this movie, but I'm not sure it's for everyone. There's an almost "what's the point?" feeling when all is said and done, like, why was this movie made, but it worked for me. One thing that might be difficult for American audiences to handle is the very understated nature of the entire production. American TV news magazines are more sensationalist, always looking to shock us, or act like they may shock us later in the episode, in an attempt to keep us interested. This has none of that, it's a story that unfolds at a very deliberate pace, and though it builds tension, it's done in a subtler way. That works especially contrary to American horror films too, which is what this is marketed as, when it's probably more of an attempt to take a ghost story and dissect it in a way that a modern TV show or documentary film maker might do.
Again, that difference between hitting us between the eyes and trying to shock us versus just giving us a story in a very even, solid way that builds upon itself more organically is a tough transition for us Yanks. If you've ever seen the BBC version of Gordon Ramsay's
Kitchen Nightmares
versus the FOX counterpart, you know how sharp the juxtaposition is. And when you throw on top of that American horror audiences as the target, you're talking about an even more finicky bunch. They want their kills and their excitement. In that sense, this movie isn't like that at all. When I think horror, I think the pacing of a musical, only with kills in the place of the dance numbers. This is an art house flick, but an attempt to put the supernatural in the context of the modern TV documentary, and the detail with which they do that, to the point that this feels like it's a true TV documentary, is really fantastic. For what it was, I really enjoyed it, but I can see how someone going in looking for something else might be disappointed.
That being said, I think this movie does some things with the horror genre that we've lost in recent years, so I hope not many people are disappointed if they see this.
Lake Mungo
had more of a Hitchcockian or Lynchian feel to it, even if it was done in an experimental TV documentary style. There was a focus on the psychological aspect of horror, as opposed to the gore or the torture aspect. Believe me, I like a good gorefest as much as the next guy (see my
Dance of the Dead
review), but when this kind of horror is done well, it's really worth taking a look at, and I hope the success of something like this, at least on the American video market, will convince more film makers to take this kind of thing on in the future. I think there's room for both in the market, though I might be wrong.
The Lynchian aspect for me comes in this almost
Twin Peaks
way that the world of Alice Palmer's life unfolds after she dies-- even the name, Palmer, like Laura Palmer, is similar. It's obviously very different in style, where
Twin Peaks
was cinematic, and this was done in a TV documentary style, but I couldn't help but see the similarities in the main story components. Speaking of
Twin Peaks
, I can't believe that show is 20 years old. I actually didn't see it until Bravo reaired it in 1996-- which is crazy in itself, to think of Bravo airing
Twin Peaks
considering what their programming is like now-- but that's still 15 years ago. It's definitely something I need to revisit. You wouldn't believe how many young twentysomethings on Tumblr post pics and whatnot from it. Makes me feel old.
Finally, I have a confession to make: I thought the mom was pretty hot. She was played by a woman named Rosie Traynor, but it was more the character of June Palmer I was attracted to. The long skirts, the dark eyes, the plunging V-necks-- oh, be still my heart! Not to mention that Australian accent. Any woman with the Australian accent can make my heart melt-- all right, maybe not
any
woman, but a lot of them. You had me at "g'day."
All right, before we run this review totally off the rails, let's wrap things up. I thought this was a really good movie. Just know that you're going in for a more subtle, psychologically based horror flick, told expertly in an experimental TV documentary style. If you dig that kind of thing, or are open minded enough to try it out, I don't think you'll be disappointed.
For more info:
http://www.imdb.com/title/tt0816556/