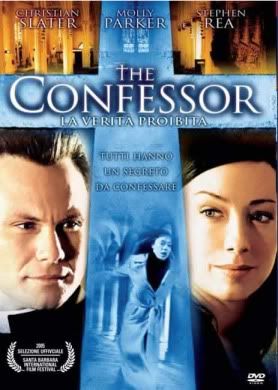 This one has been on my radar for sometime now, as I've been meaning to get more of
Christian Slater's
DTV work in, and this was on Netflix Watch Instantly. A win-win, right? But platitudes aside, I wasn't really sure what to expect from it, which always makes me a little apprehensive-- I've seen more of these go bad than good.
The Confessor
has Slater as a priest who is living the good life. His public relations savvy and uncanny ability to raise money from wealthy donors has made him an invaluable asset to the Catholic Church, and he's been reaping the benefits. All of that changes when a fellow priest is accused of murder, and he asks specifically to talk to Slater. Slater sees quick that not all is as it appears, and through this priest's case, his faith is renewed-- even if the Church brass would rather sweep this situation under the rug and get Slater back out there banging the donations drum.
I actually liked this. It's not the usual fare we have here at the DTVC, and we've seen more of these attempts at plot driven DTV go bad than we've seen them work, but this one did. It brought up a lot of complicated issues regarding the Catholic Church's place in modern society-- issues I don't want to convert this blog into a forum on, but still very intriguing nonetheless-- and layered them throughout a pretty solid murder mystery. There were also some great performances from Slater, Oscar nominee Stephen Rea, and Molly Parker, among others. It had a bit of a TV movie feel to it-- think more Hallmark Channel than Lifetime-- but with the layers and nuance and performances, it had a little more to get it over the hump.
Slater was excellent here. This is actually the second time we've seen him on here as a priest, the other being
Sacrifice
co-starring
Cuba Gooding Jr.
Part of me says "Why is this guy condemned to a life of DTV?", but when I think about it, whose starring roles would he be taking in Hollywood? He'd probably end up doing supporting roles and smaller parts, so I guess DTV is the best bet for him to do something like this where he gets to be the lead. Hey, we're glad to have him, and looking at his imdb bio, he's got some pretty sweet stuff coming down the pike.
This is our second Stephen Rea film we've done, the first being the
Van Damme
flick
Until Death
. In that one, I joked about how Rea must've been imagining what he'd put on his vanity plate for the new sports car he'd buy with the money he made from that horrible film, as a way to get through pain of shooting it (GDHLPME). This was a different story, but still, it's no
Crying Game
. I think in his case, he's been unjustly pigeonholed into the title of "Poor Man's Geoffrey Rush", which has cost him a lot of the bigger parts he had in the past. Again, his loss is our gain, because he's great in films like this.
There are two different covers for this. The one I hotlinked is the one you see at imdb. Netflix Watch Instantly has a very different one, making it look more like a supernatural thriller or something. I guess you have to do things like that with DVD covers in the world of DTV-- I mean, I'm not telling any of you anything, because I'm sure if you're like me you've seen some pretty ridiculous cases at the video store-- but it just feels out of place for a movie like this that doesn't need it. On the Netflix cover, there's a shadowy figure in a hood, and at no point in the film is there a shadowy figure in a hood. On the other hand, the Netflix categorization of it as a "Religious and Spiritual Drama" also does it a disservice, because, while the Catholic religion plays a major part, it's more there to add layers to what is essentially a murder mystery. Seeing "Religious and Spiritual Drama" makes me think it's going to be some kind of Kirk Cameron deal.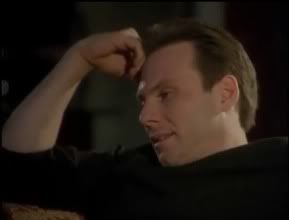 I could not for the life of me think of a seventh paragraph here, so I settled on this: did you know two of Slater's bigger films,
Kuffs
and
Hard Rain
, are no longer available on Netflix? I saw
Kuffs
in the theater, and now it's not readily available on DVD? That was a pretty big deal when it came out. And
Hard Rain
co-stars Morgan Freeman-- he's
still
a big deal! I also can't believe
Hard Rain
came out in 1998. Doesn't that sound late for that one? That means it came out in when I was in college. It definitely feels like a high school one.
All right, before this devolves into too much of a trip down memory lane, let's wrap things up. Though I enjoyed this, I must stress that it is just a murder mystery. No action, no sex, no nudity, no on-screen murder scenes, just a straight up who-dun-it with the added layers provided with some very intriguing interplay involving the religious aspects. If that sounds like your bag, I'd go check it out on Netflix Watch Instantly.
For more info:
http://www.imdb.com/title/tt0372303/