I don't remember how this one first came across my radar. It's a Godfrey Ho ninja flick, does it matter? A buddy hooked me up with a copy of his VHS, which is what I used for this review.
Ninja: Silent Assassin
is the classic Godfrey Ho mash up of a Hong Kong flick with local actors spliced together with a Hong Kong ninja flick with Western actors. This time we have a cop in France-- also a ninja-- whose wife is killed in an attempt on his life-- by other ninjas, led by a drug lord, also a ninja. He follows them to Hong Kong where another crime lord-- and another ninja as well-- joins forces with the drug lord, while our hero joins forces with the local cop-- as luck would have it, also a ninja-- who has been pursuing the local crime lord. The other story line is loosely connected to that one-- or not at all--, where a dude named Tiger, supposedly working for the local crime lord, kills a dude's dad in order to take over a labor union. Now this dude is after Tiger and won't stop until he's done.
This so easily could've been so awesomely bad it's good, but so much of it is taken up with bad, monotonous, poorly dubbed dialog that often explains things five or six times that we only needed to hear once, if at all. That's a shame, because the ninja fights are downright hilarious. I mean, flips, smoke, teleportation, throwing stars, plus hilarious changes into ninja gear from street clothes. Even better, they ganked the
Miami Vice
theme song-- literally! I don't mean it sounded like it, it was it! And then you had the ninjas in these suits with bandannas that had the word "ninja" written on them in this script that made it look like they were workers at the Ninja Theme Park and Resort. Ugh! Why bore us with bad dialog crap when you have so much fun in in your damn movie!
There weren't any big stars to report, but definitely some major B-movie actors that are known to far braver souls than I who live in the Z-grade Italian and Hong Kong zones. Foremost among them is Richard Harrison-- not to be confused with Richard Harris-- an Italian schlock cinema mainstay who looks like Honeycutt from
M*A*S*H*
and plays the local Hong Kong cop/ninja. Then there's Cameroon's own Alphonse Beni, who plays the French cop/ninja. Finally, for fans of Ho's Hong Kong ninja flicks, Aussie/Brit mainstay Stuart Smith plays the drug lord/ninja.
Okay, maybe that's not everyone. Do you recognize this guy? That's right, character actor Paulo Tocha. You're probably more used to seeing him bald and with tattoos as opposed to cheap suit and an IROC-Z owner-style mullet. It looks like, according to imdb, he got his start over in Hong Kong doing flicks like this. Good for him, he had to start somewhere, and now he's in bad
Van Damme
flicks like
In Hell
.
One thing I didn't exactly get was the splicing of the two films. In no way did they feel at all like they were connected. Would it really have been so hard to just do more scenes of ninjas flipping? I guess not monetarily. I have to imagine this technique is revered by a lot of DTV film makers, considering how many we've seen that have taken entire sequences out of previous films: I'm looking at you
Agent Red
and that sequence you ripped from
Storm Catcher
. Godfrey Ho eat your heart out.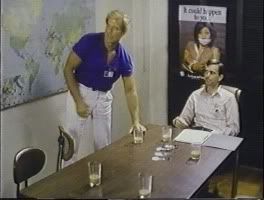 You might not exactly be able to see the poster on the wall behind the police chief, but it is of a woman goofily tied up with the message "This can happen to you", I guess telling women they need to be careful about who they let in their house. Isn't the police station the last place you'd want a poster like that? I mean, if the woman is at the police station, isn't it too late to take that advice? She's already found out the hard way that she needs to be more careful about who she lets into her place, all that poster is is an ill-placed I told you so.
This is available for an inflated price used on VHS from Amazon. It's not one of those that's so awesomely bad that you need to fork over that kind of dough. I'd just take a mental image of that cover shot above, and see if you spot it in a VHS bargain bin.
For more info:
http://www.imdb.com/title/tt0199865/