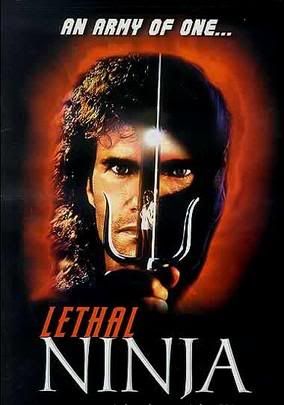 I'm trying to figure out when this first came across my radar. I want to say I looked it up erroneously while searching for another
Lethal Ninja
which Mr. Kenner at
Movies in the Attic
sent me a YouTube clip for. Also, Karl at
Fist of the B-List
did a great review of this, in which he, among other things, gives a blow-by-blow of one of its worst moments, the weirdest funeral service you'll ever see.
For Hire
has D-movie mainstay David Heavener as a ninja for hire who offers his services at $1 million a pop to the mayor of LA, in order to clean up a crime problem in Chinatown before the next election. One ninja against all of them? Oh yeah, plus he has a vendetta against their leader, a dude named Sonny who studied martial arts with him growing up.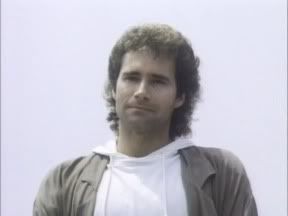 This is pretty hard core. I mean, we're talking boom mikes all over the place, a story where events don't happen in sequence, not Tarentino style, but more like editor dropped the ball style, and acting and dialog that is disturbingly bad. Problem with that: the disturbingly bad acting and dialog makes up much more of the film than the poorly choreographed-- though occasionally pretty sweet-- fight scenes. And then, for the coup de grace, they throw in a meddling kid. Few if any
good
movies can survive the pain of the annoying meddling kid, but bad movies might as well forget it, and once the annoying kid came into this one, I knew we were done. Game over.
Here we are, roughly 700 posts and five years in, and this is our first David Heavener flick-- and now I remember why! Ouch. This guy is like a Poor Man's
Miles O'Keeffe
, with some semi-decent fight moves but less acting ability. His role here was kind of creepy too, because he had some kind of thing going on with the Mayor's adopted teenage daughter. Man, talk about your D-grade.
Reb Brown
he's not.
If I've said it once, I've said it a thousand times, the annoying, meddling kid has no place in an action film. In fact, for the most part kids of any kind have no part in an action movie. It's this whole thing where they never listen, they always get in the way, and they always think they're helping. Ugh! Why would anyone ever think adding an element like that is ever a good idea? Sauteed in wrong sauce is what it is.
The ninja aspect of this was kind of interesting. While on the one hand, we had the classic "one ninja can take out a gang of twenty kids" paradigm; on the other hand, other than a sword, Heavener didn't really have any sweet ninja weapons. No throwing stars, so smoke bombs, no Batman style cables to hang from, just his fists and his feet. He did, at least, have a ninja suit, which we know isn't always a given in a ninja film for whatever reason. It is one of the funny aspects of the ninja though, the idea that he can take out 10 or 20 men, and it's an aspect that we're just supposed to take on face value, that the only person who can take out a ninja is another ninja.
This movie features one of the oddest funeral scenes I've ever seen. First, the sermon is creepy and awkward, with the priest condemning the mourners for having contributed to her death. Then he's all like "do you think you knew her? You don't know anybody. You'll never know anybody as long as you live." So that's weird, and then one of the baddie's hatchetmen shows up dressed in drag, as if he's fooling anyone-- which I guess he is, other than Heavener, because his ninja abilities let him know what's up. That leads to a brief shootout where the annoying kid gets in the way again and tells Heavener how he can't do anything with his (the boy's) help. I wanted Heavener to snap his neck like a twig right there. No such luck.
This is available on DVD from Netflix, and used or new on DVD or used on VHS from Amazon. If you're even considering it, I'd go either Netflix or another low risk method, because it's pretty rough, and I don't want you to spend too much on it. Could've been a good "so bad it's good movie", but it was more interested in boring us than showing us some sweet martial arts.
For more info:
http://www.imdb.com/title/tt0472461/