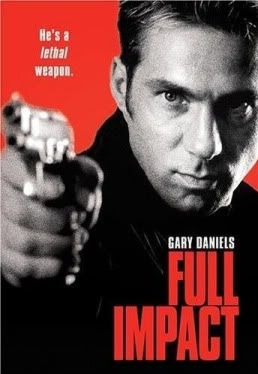 This one took some time to get from Netflix. It was one of those ones they had to send from White River Junction, Vermont. Based on how they can't dump his filmography quick enough-- probably due to them going of print, but still-- I'm surprised I even got this at all. Even if it's not worth the wait, it's another
Gary Daniels
flick in the bag.
Full Impact
has Daniels as a former cop now PI/bodyguard who tries to get back in with the police force so he can investigate the return of a serial killer he lost his job investigating. At the same time, he has a relationship with his estranged wife to patch up. As he delves deeper, signs point to a possible corrupt police involvement, meaning it'll be that much tougher for him to do his job.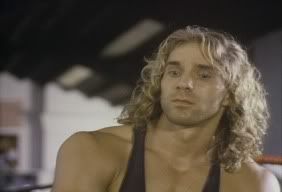 This one seemed to hit all the right spots of great 80s/90s bad action. Great bad hair, fight scenes that were either solid or hilarious in their poorness-- one was so bad a stuntman apologizes for kicking Daniels too hard--, and atrocious dialog and acting that never carried on so long that it detracted from the fun factor. No, it's no
Commando
, but it works for a late night turn your brain off flick, or if you're looking to do a bad movie night centered around Gary Daniels. If you can't have fun with this one, maybe you need to take yourself less seriously.
This marks 30 tags for Gary Daniels, putting him with
Dolph
and
Dudikoff
as the only actors to hold that honor. This is definitely of lower quality than anything those two ever did, but therein lies its charm. Also, he has much longer hair than either of those two ever had. It's like bad hair band roadie length. I have a feeling, with all of the higher quality flicks that Daniels has taken smaller roles in lately, he probably wishes Netflix would get rid of all of these earlier ones. No such luck baby.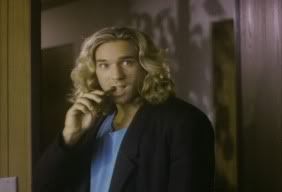 This film is indicative of Daniels' Cine Excel period, recycling a lot of the sets, actors, even scenes of films like
American Streetfighter
and
Capital Punishment
. I went back to my
Capital Punishment
post, and I had even more fun with that one, and it was even worse. They have a distinct amateurish quality, and you either dig that or you don't; but I think in terms of what people come to the DTVC for, or what they think of when they see the title Direct to Video Connoisseur, it's stuff like this more than anything that they're thinking of, and I'm good with that. Hey, if you can't find the fun in stuff like this, there's always the "Next Blog" button, because this is what we do here at the DTVC.
Daniels's old buddy is played by this older bald dude with a slow, deep voice. He gets into a fight with Daniels that's not quite as a nice as the one in
They Live
, but it's not bad either. He has four credits on imdb, and they're all Daniels flicks: this one,
Capital Punishment
,
American Streetfighter
, and
Pocket Ninjas
; but I don't remember him at all.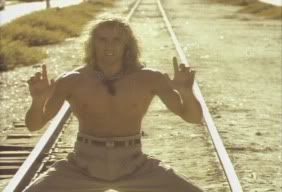 Speaking of that guy, you may have noticed that there aren't any pics of anybody but Daniels, and that includes the image page. I don't know, I figured what the hell, lets just load up on Daniels. The opening credits has a montage of clips of Daniels training and pointing a gun at imaginary objects, which was pretty sweet. I don't know why more Daniels films don't start like that-- and with footage from this film specifically, of course.
Now I'm rambling, so I should wrap this up. If you like fun, bad action from the late 80s/early 90s, this is for you, and if you can get it on DVD from Netflix, more power to you. I'm sure you can also find it cheap from Amazon or another used movie seller. Sometimes so bad it's good really doesn't work, but it does here.
For more info:
http://www.imdb.com/title/tt0101928/