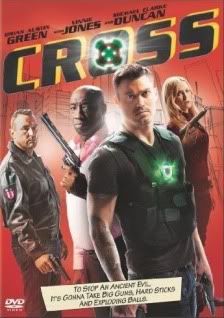 I came across this while doing a search for
C. Thomas Howell
on imdb recently. It had a pretty stellar cast, so I figured I'd give it a go, and Netflix sent it to me from their shipping center in White River Junction, VT, because apparently my local shipping centers in Portsmouth, NH, Manchester, NH, and Portland, ME didn't have it. Looks like there's plenty of pain to go around.
Cross
is about some special amulet made by God or something at the beginning of time to give some lucky holder the power to protect the innocent, and as luck would have it, David Silver, aka Brian Austen Green has it in 2011. Anyway, he has a gang of mercs and whatnot, and then there's a baddie played by Michael Clark Duncan who runs a good chunk of LA, and he's commissioned by a bad immortal viking played by Vinnie Jones to collect blood samples from ladies in town who might be descended from Gods so he can make a special staff that will finally kill him-- and everyone else on the planet. Now it's up to Green and his gang to stop them.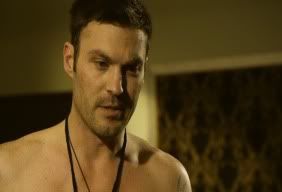 This was a solid buck-45 of torture. Just bad all around. Not funny in parts that were supposed to be funny. Not enough action. Bad manufactured tension. Scenes that overstayed their welcomes by a good five minutes-- which adds up over the course of 105 minutes. It was just poorly written which made for a lot of tediousness and redundancies. They slapped titles on the screen for almost everything that happened, as if they were afraid we weren't smart enough to figure it out on our own. "Okay, so the informant just told Green to go to such and such warehouse. Oh shit, it's the next scene, where are they now? Oh, the title says such and such warehouse, of course. Silly me!" They'd do something like show us a girl being kidnapped from her apartment, then make us sit through some of Green's gang searching that girl's apartment for her for, only to come to the conclusion we already knew! By the end of it, I was almost numb to the pain, but when Green sees his girl tied to a post, and he spends like five separate scenes not being able to get her undone and her yelling "C'mon hurry!", I was on the verge of tears. The things I put myself through to do this blog. I should've just watched
Point Break
again and re-reviewed it.
The major chasm this movie had to bridge was the idea of David Silver from
90210
as an action hero.
Aaaaaaaannnnnt!!!
Wrong! Not even close. David Bradley in a fanny pack thinks that's a stretch too far. And especially not the dark, brooding type of hero. What's next, signing him up for the new
Crow
feature? Maybe if the material had been written better, he might have had something to lean on, but the average
90210
episode had more drama and tension than this did by miles. To quote his character from the show: "I might be white, but I ain't Vanilla!" Well, I beg to differ. Maybe Megan Fox can get him some better work in her flicks.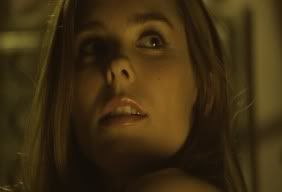 You're probably wondering why, out of all the people in this-- and there were a ton-- I chose a pic of Suzie Abromeit, who played Green's love interest. I did it because I remembered how good she was in
Beatdown
, and then I realized,
Beatdown
was an all around better movie than this by quite a bit. Her character especially was a let down, because it looked like she might get to be the same tough no nonsense well-rounded woman she was when we saw her before, but the role was lopped off without being finished and she was relegated to one-dimensional damsel in distress status. It was indicative of a lot of the movie, ideas started but not seen through; things that look great on paper but not so much on screen. It was just a big mess.
Here's a list of notable people in the film:
Tom Sizemore
, Michael Clarke Duncan, Jake Busey,
William Zabka
, Vinnie Jones, C. Thomas Howell, Robert Carradine, and Tim Abell, plus
Danny Trejo
has a two second cameo in the opening credits. None of them have very big parts, but C. Thomas Howell's is barely one scene where he's a bartender serving Green-- and in this film's style, we're inundated with too many jokes about Green ordering a water. I see now, though, how in this imdb age, getting cameos like this is a great form of bait-and-switch. The more actors we've heard of that people might be looking at through more prominent films, the more likely someone like me is to come across the DTV flick they just starred in and write a review for it-- or at the very least have the name in my head when I'm perusing a Red Box; and even though I'm crushing this movie, publicity is publicity. Hell, they list former Irish pop singer Samantha Mumba, who isn't even in the film! Nice work if you can get it.
Vinnie Jones. What comes to mind when you think of him? Brutal, kickass, British, right? If someone looks at him the wrong way, it's that person's funeral, but for us the viewer, it's ten kinds of awesome to watch him put the hurt on the guy. I thought that's what we had going on here when he shows up and some doughy toolbag of a Clarke Duncan henchman with beady eyes starts crackin' foxy on him. Nope. First, he tells Duncan to kill the guy or they can't work together, but Duncan instead kills another of his henchmen who cheated at Go Fish, then he tells Jones that he's loyal to his men yadda yadda yadda he won't kill the doughy toolbag that was asking for it yadda yadda yadda, and Jones, instead of taking care of business himself, says, "good, that was a test to see yadda yadda yadda whatever", and that's it, end scenes. Are you serious! You understand that we're watching this to see Vinne Jones slam a douche like that's head in the car door several times. Or something. Just do something instead of bore us with useless mindless chatter! Please!
But unfortunately that was too much to ask of the people making this movie. Are you looking for some pain? Like I mean having Vinnie Jones slam your head in a car door kind of pain? Probably not, so I'd steer clear of
Cross
. Luckily I reviewed this one on a Friday, because now I have a few days to recoup before I review something else.
For more info:
http://www.imdb.com/title/tt1046245/