I wasn't sure if I'd do a
Jeff Wincott
flick while the Bruins were playing Vancouver in the Stanley Cup. I know what you're thinking "Wincott's from Toronto, they're two totally different cities thousands of miles apart." Don Cherry answered that question back in 2006, when he referred to the Edmonton Oilers as "we" and then followed that up with "that's right, I said 'we'!" He laid down the gauntlet, it's America Jr. v. Boston right now, and I probably shouldn't be reviewing movies from the enemy, but I'll make an exception because Wincott is so awesome-- even if he is Canadian.
Open Fire
is
Die Hard
in a chemical plant starring Wincott as a disgraced FBI agent working construction in the desert who finds out his father's chemical plant is taken over by Patrick Kilpatrick and the serial killer from
The Expert
-- and perhaps
Yuji Okumoto
, I can't be sure. Anyway, Wincott is their only hope, so the odds are against the hostage takers.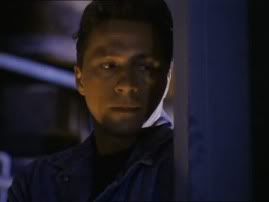 This was an extremely frustrating movie. Of the 88-minute runtime, too much was used to further a plot that was atrocious. Seriously, you're making a movie about Jeff Wincott, so don't waste ten minutes of my life showing a doughy guy with a mullet driving a decoy car with bomb in it, is that too much to ask? Apparently it was for these film makers. The first 35 minutes had two fights, an appetizer at the beginning with Kilpatrick, then one of the sweetest bar fights ever about twenty minutes later with Wincott. Then around that 35-minute mark, Wincott zip-lines into the base, lands at the feet of one of the guards, and says "I'm the health inspector, we had some complaints", and kicked the guy's ass. Now it's on-- at least that's what I thought, and for a solid 15 minutes it was, until, you guessed it, more bad plot. Crap about Kilpatrick's escape plan and all his explosives. It was so bad that Wincott actually disappears and I asked out loud "hey, wasn't Jeff Wincott supposed to be in this film?" It redeemed itself a little more towards the end with a great end fight between Wincott and Kilpatrick, but overall, this was a waste of some of Wincott's best stuff in favor of cramming a sucky plot down our throats.
And when I say some of Wincott's best stuff, I ain't lyin'. The bar fight, the fights with the guards, the end fight, the one-liners, the mean mugging, and for the ladies, the shirtless jackhammering. He literally disappears from his own film around the hour mark though, as we're inundated with the asinine minutiae of Kilpatrick's plan, and then he comes back in the form of stalking Kilpatrick and his gang and hostages while we're forced to deal with the even dumber doughy guy driving the decoy van with the bomb in it. I don't know, I don't get it. How do you cast Wincott and put him in some amazing fight scenes, and then say "okay, that's enough, now let's cut to a doughy guy driving a van-- the kids'll love that!" The more I think about it the angrier I get, and I need to focus on the positives, that Wincott was great when the film allowed him to be.
I've noticed we've been getting more women commenting here at the DTVC, which is always a good thing-- and maybe more gay men too, who knows. Me being a straight guy, I tend to focus more on how hot the women are in a given film I review, so for everyone who feels left out by that, this shot of a shirtless Wincott using a jackhammer is for you. Enjoy.
Patrick Kilpatrick was a great villain here, and when combined with the serial killer from
The Expert
, the two were fantastic. Problem: I shouldn't see more of the villains than the hero, especially when the hero is played by Jeff Wincott. No
Die Hard
rip-off should ever have a plot that diminishes the action, and furthermore, no
Die Hard
rip-off should cram so much into the villain's nefarious plot that it involves losing the hero for long tracts of time. I'm only watching this film for one reason, and one reason only: to see Wincott kick ass. This isn't about you film makers, it's about Wincott.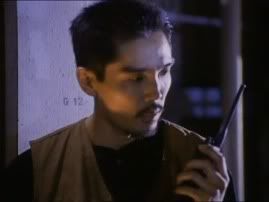 Is that Yuji Okumoto? It looks like him, right? But he isn't listed in the credits, and imdb doesn't have him either. Not only that, but his character isn't listed, so I can't tell if it is someone else, and I just didn't know. It's the shadowy world of DTV, where actors and characters get clipped from the credits, and we're left wondering...
This is maybe for Wincott completists, because he has some excellent fights, but even then it's a stretch and there are much better all around flicks of his to check out first. This is more a missed opportunity from a plot-happy group of film makers thinking they had something good, while Wincott sat on the sidelines smoking a cigarette-- now that you mention it, Wincott smoking a cigarette would've made for better film making than of a lot of the crap we ended up with here.
For more info:
http://www.imdb.com/title/tt0110740/