After the role that should've been his was taken by a
300-pound pork roast
in the last film of his we reviewed, I was looking to get
Olivier Gruner
back in the saddle ASAP, but unfortunately Netflix didn't cooperate right away, because this wasn't readily available. I have it now though, so let's see how it went.
Velocity Trap
takes place out in space in the 22nd century, where Olivier Gruner works security for a mining company on some far-off colony. There's a whole bunch of crap surrounding him and his whistle-blowing on some company exec's shady business practices and something to do with Gruner's wife being owned by his boss or something. Anyway, he ends up pulling duty doing security for a 6 month trip back to Earth to deposit $40 billion in cash. While the crew sleeps, he does ballet and whatnot, until another ship comes out of nowhere and docks onto them and boards and tries to steal the cash. Uh oh, whatever will M. Gruner do?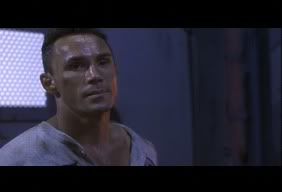 Was that synopsis convoluted enough? Consider that I cut some other aspects of it out. That should give you an idea of what I was up against, because this was something of a tough sit, which is too bad, because I wanted to like it. It ran into the classic sci-fi dilemma: too much back story crammed into the plot to set the scene for us, and in this case it was so much we didn't have any real action till sometime around the hour mark. That's right, almost an hour of blah before the shooting started. It had it's moments, like Gruner goofing around while everyone was asleep-- including some great ballet-- but having its moments doesn't make up for an overall 90 minutes of "what's the point?"
At the very least, we can say that Gruner was the star here, and his role wasn't given to a 300-pound pork roast, so in that sense,
Velocity Trap
is already ahead of the game. On the other hand, Gruner spent very little time being the kickass action star we know and love. It looked good to start, with him taking out a gang of thugs on the street as he bought an apple from a vendor, and went into another pretty sweet scene right after; but that was it for a long time, and even when the action did start, it wasn't always that great-- lots of bad shootouts and poorly choreographed fight scenes. The way to do this movie would've been to cut out a chunk of the crap in the middle, add a bunch of baddies, and make this into a solid
Die Hard
on a ship, really playing to Gruner's strengths as a martial artist.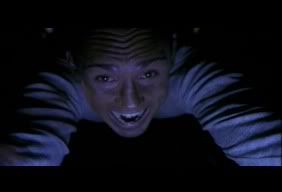 This movie used a lot of computer special effects, especially outside the ship. I'm not saying they didn't look nice, but were they what you'd want to hang your hat on? I don't know. We could ask George Lucas, who also made a movie in 1999 where he hung his hat on CGI, and that didn't go over so well either. Style over substance, yes, but make sure it's the right style. Gruner flexing his martial arts muscles: the right style; a space ship dog fight rendered in CG: cool but not that cool.
Two very hot women in this: Alicia Coppola (no relation to Francis Ford and Sofia) and Jorja Fox. The thing about Jorja Fox that is so hot is how attractive she looks when she's scowling. As a rule, people don't look good with a bad look on their face. Take me for instance, I look like I'm smelling something funny. 50% of looking good is smiling as far as I can tell, and it makes sense from an evolutionary standpoint; but Jorja Fox completely flies in the face of that rule. She also has a really cool voice. In
Velocity Trap
she didn't have a huge role, but one thing she did have was a large breast plate with nipples, a la Batgirl in
Batman and Robin
-- or was that Batman who had the bat-nipples?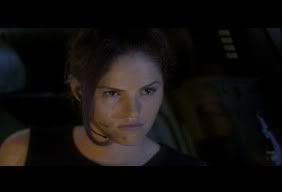 Finally, Bruce Weitz of
Hill Street Blues
fame had a small part in this as the ship's captain. I'll always remember him from his guest spot on
Highlander
, where he played an old Irish fight promoter immortal with a weird obsessive murderous streak. Very good Irish accent too, considering he's from Connecticut. Best part about that episode: Duncan in a 19th century bare knuckles boxing match using the old school underhanded punch style. Great stuff.
But you know if I'm discussing old
Highlander
episodes that the movie itself is lacking, and that's the case with
Velocity Trap
. It was too caught up in its own story and its CG effects, and didn't provide enough substance behind it. Too bad, because it wasted the performances of a great cast and didn't utilize Gruner's martial arts skills enough as a result.
For more info:
http://www.imdb.com/title/tt0120435/