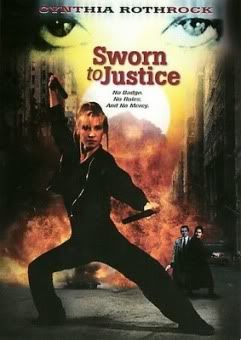 If you look up
Cynthia Rothrock
on Netflix, you'll see a sea of green, as in most of her films have been relegated to the dreaded "Saved" section of the site, meaning they are currently-- and probably will always be-- unavailable. Somehow this one has slipped through the cracks though, and I was able to get it on DVD from them. How long that will last, I don't know.
Sworn to Justice
has Rothrock as a psychiatrist working as a consultant for a law firm. She comes home from vacation to find robbers in her house that have already killed her sister and nephew who were staying at her place while she was out of town. She fights them off, jumps out of her apartment, hits her head on a tree, and finds she has ESP. Armed with her psychic powers and too sweet martial arts skills, she's out for revenge, and I'd hate to get in her way.
I was torn on this one. On the one hand, it was a pretty big departure from the action flicks Rothrock usually does, where she's essentially a woman playing a man's part. Here she's a woman, wears a lot of hot outfits, and even has a love scene, which she's never done before. There were also some really nice fight scenes, and some really cool special appearances by Walter Koenig,
Brad Dorif
, and
Mako
-- plus Dawson's mom from
Dawson's Creek
. On the other hand, the plot fell off a bit and became bad Lifetime movie-esque. Brad Dourif's connection to the robbery that killed her family was a stretch, as was her best friend having an obsessive lesbian crush. There was also a sense that the intentions were good, but there was too much going on. They tried to go Jackie Chan martial arts comedy for one scene, but added a bunch of silly sound effects that made it too out of place and honestly kind of dumb-- which is too bad, because it was really choreographed well. Sometimes less is more-- though more fights and less plot would've been a better equation, because with a story like this, the more plot the more bad lifetime you get, and throwing in the martial arts scenes after that makes for a major identity crisis.
When I saw the Rothrock love scene, I was thinking "I don't remember seeing her in one of these before." As luck would have it, this came with a making of featurette, and in it she said she'd never done one before, so I was right. One the one hand I thought it was cool that she had a chance to do that, but on the other, I'm not sure I like the idea of any action star, male or female, doing the love scene. I was always of the opinion that in the male instance, it was one of the perks of the job-- love scene with the hot female lead, maybe two. In
Van Damme's
case, it was also a great moment to throw in the butt shot. I guess what I'm saying is, I like that she did it, and I like that her character could fall in love with a guy instead of just be one of the guys, but the love scene is a part of the action film that in general has to go.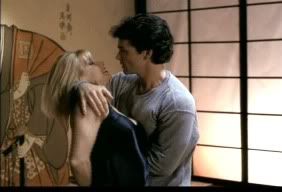 Also in the featurette, the director made a point that I've always kind of noticed before, that action films are closer to musicals in terms of pacing and the way characters express themselves. When you think of good musicals though-- and I know most of you reading this blog don't!-- we're never allowed to go too far between numbers. And maybe that's why I get on action movies so much for getting lost in the plot, because they think they're making an art house flick, as opposed to something more like a musical where the dance routines are replaced by major ass kicking. As I mentioned above, this film wasn't too bad on the ratio, the problem was just that the plot outside of the action was so borderline Lifetime movie that the difference between the two, the action and the plot, made for a major identity crisis.
Art Camacho
was one of three fight choreographers in this. Rothrock asked that Douglas Kung be flown in from Hong Kong, plus Eric Lee did some as well. You'd think there'd be a too many cooks in the kitchen thing with that, but the opposite was true, because a lot of this stuff was really great. One thing I didn't get though, was that Ian Jacklin had a cameo as a chop shop guy, and he gets his ass kicked without fighting by the main baddie. Why would you do that? Why not have him get after it? In that same vein, Vince Murdocco was a member of the baddie's gang, and he did more acting than fighting? Again, why would you do that? Murdocco isn't an actor because he can act, he's an actor because he's a champion martial artist. With the kind of choreography talent they had, we should've had some cool shit with these two, and we got nothing.
I wanted to finish this by discussing Rothrock's final thought in the featurette. She talked about how she wanted to be a role model for women everywhere and inspire them to take their own martial arts classes. It sounded like it was less for self-defense, and more about overall empowerment, but either way I think it's a solid message. Obviously not every woman is the kind of athlete she is, but the fact that she's out there at 5'5" doing all her own stunts is still pretty crazy, and she can sell that image of herself as a genuine one for other women to look at as more than just the girl who gets rescued by the hero-- or has to look like a man to be the hero.
I'm still kind of torn on this one. Definitely a must for Rothrock fans, because it is a very different kind of role for her, despite still being an action lead. The guest stars were great too, as were the fight scenes. It did have its drawbacks though, and I guess for me, I liked it in spite of that, but you may not. If anything, I'd get this through Netflix while you still can or another way that won't involve you making a huge financial investment.
For more info:
http://www.imdb.com/title/tt0117803/