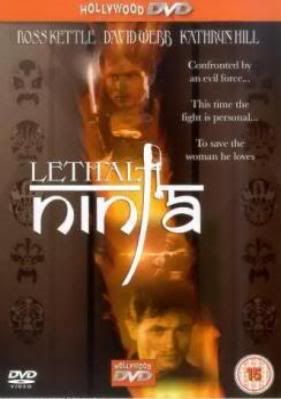 From time to time Mr. Kenner at
Movies in the Attic
will send me an e-mail with some clips off of YouTube for movies I need to check out-- and I must say, he has a pretty good track record. One of those clips one time was of this one, but I mistook it for the
David Heavener
flick of the same name. Luckily, this one is available on Watch Instantly, so crisis averted. Also, our buddy from Down Under Sutekh over at
Explosive Action
has also covered this.
Lethal Ninja
involves some shady corporation in Africa that is polluting the water supply, and when a group of scientists discovers this, the corporation sends a team of ninjas down there to snuff them out. All but one, the one being a totally hot blond-- but that's not why she's being saved, it has something to do with her area of expertise being of use to the corporation or something. So she's kidnapped, and her husband back in the States just happens to be a highly trained former special agent or something, and he and his buddy shoot over there to get her back and save the day.
I don't know what to do with this one. Overall, really funny, and though not all of the film lives up to the opening scene that Kenner sent me the clip of, there's plenty other material to mine. Top of the list, rollerskating ninjas. That's right, I said it, and we'll get into it later. The hero looks like a poor man's
Michael Paré
, but the interplay between him and his friend is more derivative of
Michael Dudikoff
and
Steve James
in
American Ninja 2
. The thing is, this is a reverse of all other ninja flicks, because in this one they're horrible and easy to take out for two trained fighters. That may be the biggest problem, because they often put up little to no resistance to our heroes, making the fight scenes relatively lack luster.
Who'd'a thunk, a reversal of the ninja paradigm? Usually we watch ninja flicks because one ninja can take out ten men. Now you're telling me ten ninjas can't take out one man? That's hard to swallow. Why even make it a ninja flick in that case, right? I mean what's the point of ninjas-- oh, wait, the fact that they have their faces covered means the film makers can get more bang for their buck with the stuntmen and extras, I see. We never know that the same dude was killed five times, do we?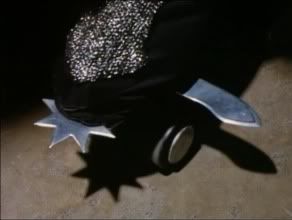 On the other hand, this film made a major contribution to the ninja genre. Rollerskating ninjas. I wouldn't have believed it if I hadn't seen it myself. It was sassy, brassy, a real humdinger! Unfortunately they didn't take it too far, no Hokey Pokey, no slow song to couples skate to-- in fact, no DJ at all, what kind of rollerskating rink is that? What else can I say about rollerskating ninjas? They did a great job skating in sync, until our hero (disguised himself as a ninja too) started picking them off as they skated by, trying to take him out with the throwing stars that popped out from underneath their skates. Isn't that beautiful.
Quick note on Ross Kettle, the poor man's Michael Paré that played the hero. He was married to Michelle Forbes, who played Ensign Ro on
Star Trek: The Next Generation
. I'm not sure, but I believe there is an action figure for her character. So that's what we got, the closest thing to a star is the ex-wife of the hero.
Finally, this film for some reason or another made reference to Nostradamus. First they had a block quote by him, then they referred to that quote through the movie. I recently read James Joyce's
Finnegan's Wake
, which for the most part makes no sense, but here and there I can spot things that coincidentally match up with things we have today that they didn't have when he wrote it. Things like "lol", or even a "Dolph". My hope is that in 200 or 300 years, people will look at
Finnegan's Wake
as the same kind of soothsaying tome that people today think Nostradamus's writings are. "Aliens from the future gave it to him, and predicted the existence of
Dolph Lundgren
20 years before his birth!"
All right, if I'm talking Joyce and Nostradamus, it's probably time to call it a day. This is funny enough that, with it's Netflix Watch Instantly availability, and if watched in a group during a bad movie night, but not as the main feature, it could be fun. Otherwise, it doesn't quite have enough beyond the opening scene and the rollerskating ninjas-- which is still pretty sweet.
For more info:
http://www.imdb.com/title/tt0107392/