Usually, when I do a post, I try not to mention the posts that came directly before it, because on some levels I want each review to stand on its own, especially if someone stumbles upon them later on down the road in the archives. I made an exception here though, because this post is the last one in a week that had some really awesome films:
Pink Chiquitas
,
Dead Man Walking
, and
Dance of the Dead
. Usually, if you can get one movie to be a winner like that, it's a good week, but now we're going into a Friday post of a
Mark L. Lester
flick looking for a clean sweep. It would be sweet, but we have to remember, no matter what happens, it's already been a banner week.
The Base 2
isn't so much a sequel as it is a similar premise as
The Base
-- which kind of begs the question, why bother, if you're making the same movie? But I'm digressing. Antonio Sabato Jr. takes over for
Mark Dacascos
, and he's sent in to infiltrate a special forces unit that is thought to be connected with some missing soldiers that were acquitted of crimes they should've been court-martialed for. Antonio discovers that the unit is kidnapping these men and letting them loose out in the woods, where they track them down, hunt them, and kill them. Now Sabato Jr. needs to gather as much evidence as possible for as long as possible to pad out the middle of the film, and not get caught.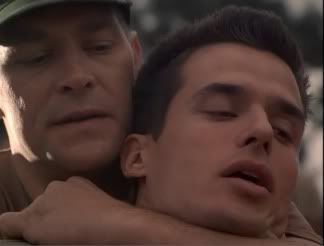 Okay, so 3 out 4 ain't bad, right? This one was pretty sweet for the first 30 minutes, and then grinds to a halt, goes through 40 minutes of slow plodding, only to get us essentially back to where we were at the thirty minute mark. Then we get a superfluous shirtless male bondage scene with Sabato (though I guess not superfluous to people who are into that kind of thing), and once that's over with, we're again back where we were at the 30 minute mark, and are then officially able to get on with and end the movie. See, here's the problem: once the unit takes their first victim out to kill him, and Sabato see this, the forty minutes after where he's gathering evidence is useless to us. There's no mystery, we know who did it, and we know he knows. What the film should've done instead was have Sabato save the guy they wanted to kill-- who was a rapist that got off because his father's a senator-- and play a cat and mouse game in the woods with the unit for those forty minutes, complete with some awesome Mark L. Lester directed action sequences. I mean, we all knew the movie was going to end up there anyway, why waste all that energy on crap that meant nothing, when you could've used it where it counted? Plus, you'd've had the extra layer of the morality play between Sabato saving a rapist vs. not following orders. Unfortunately, they didn't do that, and when you combine that with not enough great action-- though there was some-- and fight scenes that were lacking without
Art Camacho's
fight choreography from the first one, what you ended up with was a dud.
The only other Antonio Sabato Jr. flick we've done to this point is
The Asylum
flick,
Princess of Mars
, which he was really good in. I'd say he was good here too, he just didn't have a whole lot to work with-- based on how he was in
Princess of Mars
, I'll give him the benefit of the doubt. I also liked him in
The Big Hit
, where he had the best pick up line ever: "I want to pour milk on you and make you a part of my complete breakfast."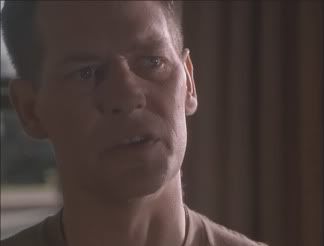 We got a little James Remar here, playing the Lt. Colonel heading the unit. He's like an everyman's poor man, right? There are any number of bigger names that he can stand in for if you don't have the budget. For instance,
Michael Paré
. How about a younger version of
Lance Henriksen
? Maybe a younger Michael Rooker? A modern day James Coburn, perhaps. I kind of see a little
Klaus Kinski
, and would be curious to see if he could deliver that mania Kinski was so known for. Also, born in Boston-- Beantown baby!
This had
Yuji Okumoto
as one of the soldiers in the unit, who is, as you know, an
Albert Pyun
mainstay. As a DTV geek, seeing a Pyun mainstay in a Lester flick is like seeing Chishu Ryu, an Ozu mainstay, in
Red Beard
, a Kurosawa flick, would be for a Japanese film geek. Too bad we didn't have any
Thom Mathews
of
Tim Thomerson
-- and this movie could've used it. We do have our great Mark L. Lester action moments, especially early on, and then it's like someone else takes over directing duties, because this ceases to be an action film entirely. Maybe the fact that it was originally a TV movie made Lester dial down his violence, but I don't know, we saw some ears cut off and a severed head. Anyway, tell me Lester getting his hands on a
Deadly Prey
style paradigm wouldn't have crushed it. Total waste.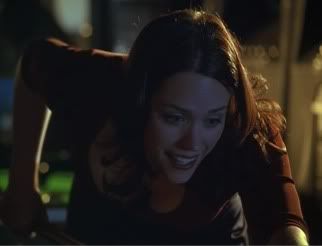 Do you recognize this chick? You sure? Her name's Melissa Lewis, still not ringing any bells? You know why you don't know her? Because she was tagged with the dreaded "And Introducing" in front of her name, the classic career kiss of death in movies like this. The only one I can think of that wasn't a career ender was
James Lew
in
Red Sun Rising
, and as we know, that was an "And Introducing" of a very dubious nature. And it seems like it's actresses more than actors too, right? The leading lady has her name couched with the tag "And Introducing", and it's as if she's on the road to great things; unfortunately, those great things end up being marrying a CPA in Van Nuys and having three kids.
The Base 2: Guilty as Charged
was only guilty of one thing: suckage (yes, had to squeeze that one in there...). I just don't understand who writes an action movie script and thinks "let's severely limit the possibilities for any action whatsoever for a good 40 minutes in the middle of the film, how's that sound?" It sounds like painfest sauteed in wrong sauce, how's that?
For more info:
http://www.imdb.com/title/tt0236013/