I'd been meaning to make this one happen for a long time, and I'm not sure what has kept me from it. This was a video store classic, that gross, cult, 80s horror flick with tons of blood and gore, and some stop-animation that left a little to be desired-- but we thought it was great for that reason. They don't make 'em like this anymore for one reason or another, and that's too bad.
Basket Case
follows a kid named Duane from upstate as he makes his way in the big, scary, New York City. He looks like a poor man's Marc Bolan, and he carries a wad of cash and a large wicker basket around with him everywhere. What is in there? And what is he doing in the city?
As I mentioned above, this is vintage. It starts off with a guy in a remote house, yelling into a phone and screaming for his life. It's more like a guy who's pissed that someone is bothering him or egging his house than someone afraid for his life. From there's he's brutally dispatched by a rubbery gloved demon-like hand. And the movie just spends the next hour and twenty minutes living up that promising start. So few horror movies can deliver what they're selling, but
Basket Case
does. This is great 80s low-budget horror that is exactly what you're looking for.
I'm tired of being told that movies like
Hatchet II
are somehow saving the horror genre, or giving me the kind of horror I knew and loved from the 80s, because they aren't. I'm going to let you know how many minutes of
Basket Case
were wasted with bad conversations about the names Chad and Cleetus: zero. I'm going to tell you how much of the film was wasted with bad jokes that went on too long: zero. I'm going to tell you how much of this film felt forced, or overly indulgent, or like it was trying to hard to sell me something it wasn't: none of it. To put it in terms the kids can understand:
Basket Case
greater than
Hatchet II
.
On the other hand, before I get too carried away with 80s are better than '10s, I'd be remiss if I didn't mention the bad stop animation, which was hilarious. There's a scene where the Basket Case guy flips out and destroys Duane's room. It was like a bad Herbie Hancock video. I know, I spend a lot of time on here saying that I'd rather see stop animation or other effects instead of CGIs, but a big reason for that is that I think directors get lazy with CGIs; here, we were looking at an instance where CGIs-- or maybe a bigger budget-- would've made the scene look better. Of course, it could've been made to look bad on purpose too, and in that case, it totally worked.
That brings me to a confession: when I first saw this, when I was like 8 or 9, I thought it sucked. In fact, I thought a lot of these schlock horror flicks sucked. If it didn't have Freddy or Jason or Michael Myers, chances are me and my little buddies would've thought it sucked. Okay, we also liked
Texas Chainsaw Massacre
. It wasn't until I was in high school that I really got into great ones like these, when films like
Evil Dead
and
Bad Taste
had taught me to not be so mainstream/big budget in my horror tastes-- not that I don't still love the Jason and Freddy flicks too.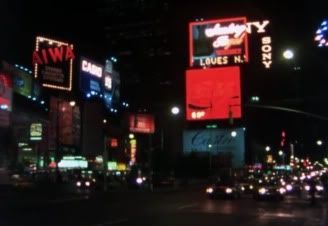 I think I brought this up in the
1990 Bronx Warriors
post, but I think it's worth mentioning again (plus, who knows how many of you actually read that one considering I wrote it over two years ago). I love these old shots of what Times Square looked like pre-Bubba Gump's Shrimp themed restaurant and whatnot. I've never been to Times Square period, but when you compare these images with the ones today outside TV shows and whatnot, you can see a lot more character in the former. This was the rough place that you could set a movie like this and make it work. What would it be today, the hero carrying his basket outside of the
Today Show
set? "Hey Al, I'm Duane from Glen Falls, New York!"
This is currently on Watch Instantly, which is where I made it happen for this review. As far as DVD vs. VHS, there's actually no benefit to getting this on DVD, no extras, a full screen port, so if you're a VHS nostaligist, you won't be missing anything by sticking with the VCR. Hopefully someday they'll give this the full treatment, commentary, deleted scenes, etc.
For more info:
http://www.imdb.com/title/tt0083624/