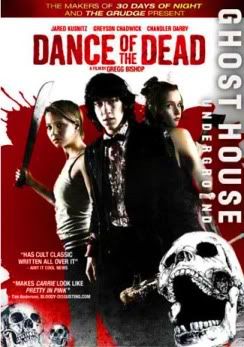 This was the third of three movies featured in September's
Netflix Bad Movie Night
, which as I've mentioned before, is run by our friends at
Mr. Gable's Reality
, and
Guts and Grog Reviews
,
Morbidementia
. I have to confess, because this was the last one, and it started at midnight here on the East Coast, I kind of fell asleep for a chunk of the middle. I know, I suck, but it was a busy weekend, I got back late from the Sox game the night before, and got up early that morning to watch Arsenal tank... anyway, I did go back and rewatch it, so this isn't a review based on half a movie. Also, our friend Francisco at
The Film Connoisseur
looked at this one a couple years ago, so you can check that out as well.
Dance of the Dead
is about a high school in Georgia readying itself for it's prom. There's a nuclear power plant nearby, and it's doing something weird to some of the corpses in the cemetery. Unfortunately, the sci-fi club, unable to get dates for the prom, go into the cemetery to cause trouble, and they find it, exciting all the zombies to life. Now the whole town is in danger, and it's up to a group of kids, led by Jimmy, the class clown, and his recently estranged girlfriend, Lindsey, to get to the prom and save all their classmates before the zombies get there and feast on them.
I really liked this one. Maybe the best horror flick I've seen in years. It got everything right. Great comedy, dark humor, gore, special effects-- just a great low-budget comedic zombie flick and send-up of teen movies. I liked that it had all the classic types, but instead of exacerbating the types and jamming their elbows into my ribs, constantly saying "see, see, we have a that guy! You know how all these movies have a guy like that!", they dulled that effect a bit, and actually tweaked each one, making them a slightly different take on their prototypes. I also really liked the music in this, including a sweet cover of Pat Benetar's "Shadows of the Night" by the high school garage band. This is horror comedy done right, definitely worth a look.
Of all the characters, I identified most with Jimmy, because, like him, I too was the class clown. Usually, the class clown is played by a Matthew Lillard type, and while he may last 'til the last half hour, he seldom survives, and is definitely never the hero. Kudos to you movie for giving us class clowns some love, we can step up to the plate and save the day when called upon.
Who is this guy? He looks so familiar, but when I looked him up on imdb, I hadn't seen any of the things he was listed in. He played the lead singer of the band, and was pretty cool. Best part: when he sang (or lipsynched, I'm not sure which) the Pat Benetar cover. The whole scene was just really sweet. It was like the horror film take on the romantic teen movie lovers finally have their moment scene, with Jimmy and his girl slow dancing, covered in blood, while zombies are wandering in a trance around them.
As I mentioned above, I liked how all the stereotypes were tweaked. For instance, the geek wasn't a nice, misunderstood guy, he was a bitter, obnoxious tool; and the cheerleader wasn't a vain, shallow pretty girl, she was a down-to-earth go-getter that kicked a lot of ass. And of course, we mentioned the class clown above, and his girlfriend was kind of the Miss Perfect type, which was also not true to form, as she hooked up with another dude, then laced up some combat boots for the final zombie confrontation. It's too easy for a horror comedy to take the stereotypes, exacerbate them, then hit us over the head with how much they're ticking off all the boxes. To keep a level of comedic consistency, while doing something different with the characters we go in expecting, that's true quality.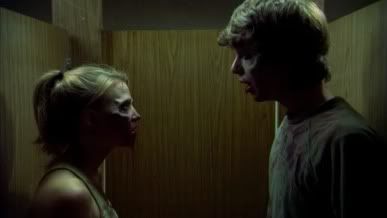 Finally, I wanted to take a second to discuss
Twilight
. I know our buddy
Mr. Gable
looked at the first one, and he took a similar track to the one I'd taken: why are people so angry about these films, when they're made for teen girls? It's like watching
Dora, the Explorer
and yelling "this show is so dumb! I can't stand this crap! Who cares about that stupid map! What the hell the point of a talking monkey! Who likes this shit!" 5-year-olds, that's who, and as
Dora
wasn't made with adults in mind, neither was
Twilight
, so relax, it's not like the film is advocating Holocaust denial or plotting to kill your mother. On the other hand, just because it's not made for us, it doesn't mean we can't have a little fun with it, and that's what
Dance of the Dead
does, here, where poor Steve becomes a zombie to be with the girl he's pined over all this time. It's kind of like they take the
Twilight
vampire romance, and move it to it's logical conclusion, using zombies instead.
You can get this on DVD pretty much anywhere, and for right now, it's on Watch Instantly (the quality of Netflix's product is dipping considerably though, so who knows how long it'll stay for). If you're a horror fan, or even if you're not, I think you'll enjoy this. This is the kind of movie that gives me hope that the genre is not totally lost.
For more info:
http://www.imdb.com/title/tt0926063/