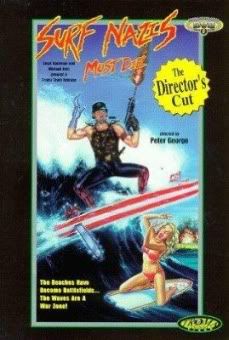 I know what you're thinking: "Poirier, you're like 725 posts and over four years into this blog, and this is your first Troma flick? What's wrong with you?" Honestly, I don't know. I wanted to wait on them initially, because most of them I see more as independent films than DTV--
Surf Nazis Must Die
for instance screened at Cannes. Then you may remember in 2010 the readers voted to do Hong Kong films instead of Troma for a multi-week feature I did. After that I went on hiatus, and when I came back, I wanted to concentrate on some of the great bad action of the 80s and 90s, just to get my passion back for the blog. Now it's September 2011, and I think it's time to break the seal and start hitting some of these bad boys which were so influential to me growing up, and made me love low-budget cinema; and I can't think of a better place to start than
Surf Nazis Must Die
.
Surf Nazis Must Die
takes place in an LA ravaged by an enormous earthquake. In the aftermath, gangs have taken over the beaches, and one gang in particular, the Surf Nazis, are extremely vicious and equally ambitious. As they assert their brutal hold over the shore, they kill a man named Leroy, and his mother living in a nursing home is pissed. It proves to be a fatal error on their part.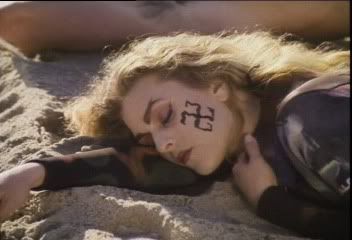 I loved this one. For sheer gore fans, this probably won't cut it-- think of it as the anti
Hobo with a Shotgun
-- but it works as an exploitation flick, and the gore will get there, you just need to wait until the end. I like that, that they don't spend all their nickels at once, but they also don't bore you as they're readying us to spend them. Great sets, great costumes, great music, cool characters, sinister villains, and some really exceptional surfing scenes. For any new directors looking to do a modern take on exploitation, look no further than right here.
One interesting plot device that I liked here was that we saw much more of the villains-- the Surf Nazis-- than we did of the heroine, Mrs. Washington. It made for an interesting dynamic, because we certainly weren't rooting for the Surf Nazis, but the beats in the film kind of played out where we were seeing scenes and character development with the baddies that we'd be expecting the heroine to go through. Especially the end scene, where Mrs. Washington is chasing Adolf and his girl, it's like the roles are reversed.
As I mentioned above, the surfing scenes in this are great. We find out in one of the featurettes that they were shot by a professional surfing cinematographer, and they were done in Hawai'i instead of California, where the rest of the film was shot. That too added a different element, made it more like exploitation films from the past, where a gang rode motorcycles or surfed or did some other kind of marginal sport, and parts of the film would be dedicated just to them plying their craft.
Speaking of the Troma DVD, it has all kinds of great stuff, from deleted scenes, to interviews with director and producer. For a movie like this, the story about the process is always almost as fun as the movie itself. I got the DVD on sale from Troma's website in 2000 for like $5, and looking at their website, that's still the DVD they offer, only now it's $6. Not a bad deal.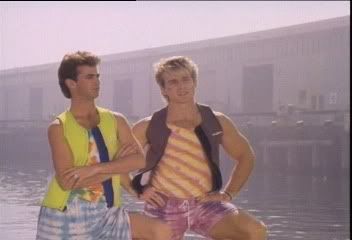 Do you recognize the handsome devil on the right? It's DTVC favorite Ted Prior! He has no real speaking line, doesn't run around without his shirt and shoes killing people, and definitely no scalping. It was just a cool novelty, he played a member of one of the rival gangs, the Designer Wave, and in fact, I didn't notice him until I saw his name in the credits. See kids, it pays to stay for the credits.
As I mentioned above, the DVD from the Troma website for $6 pre-shipping is the way to go. Don't download it to iTunes, don't stream it on Hulu, don't let your VHS nostalgia get the best of you. The DVD has all the extras, it's the director's cut, why mess around?
For more info:
http://www.imdb.com/title/tt0094077/