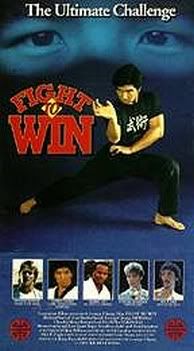 This looked like a pretty sweet deal, especially considering it featured the Ginger Rogers and Fred Astaire of DTV action, DTVC Hall of Famers
Cynthia Rothrock
and
Richard Norton
. Always good to get films in with this pair. Took a while to get, but a friend hooked me up with a VHS, which was very nice of him.
Fight to Win
has George Chung as Ryan, a cocky kid with major martial arts skills but is totally full of himself. After winning a local tournament, his father and his sensei's old nemesis, Richard Norton, comes by and challenges the kid to fight one of his guys, and naturally, the kid loses bad. The sensei's got some heart trouble, so he calls in prized pupil Cynthia Rothrock to train the kid, and it just happens she has an ax to grind with Norton as well. Can the kid put his ego in check long enough to gain his redemption?
Wow, this is a pretty sweet deal. Not the best, but for bad action, really good. The fight scenes were solid, there were some jokes that were funny, and some jokes that didn't work that were even funnier, and some serious moments that were even funnier than that. I posted a short dance/martial arts montage on the
image page
that was one of the funniest, but I think I could've posted five or six videos, there were that many great moments. Also, there was some really impressive music, solid 80s stuff, and great mullets and outfits. This is just really good 80s bad action.
I know I should be posting a Cynthia Rothrock image here-- and I put a couple on the image page-- but I had to indulge in this Norton one here instead. It has everything, the windswept, feathered mullet; the leather jacket with the sleeves rolled up; the sweatsuits; and most importantly, the vintage Ford Escort. Man, if I had the money, I'd get one of those things and have so much work put into it-- hell, I'd even get the "Antique" plates. How sick would that be? As far as the Ginger Rogers and Fred Astaire of DTV action, they were both good. Norton had a lesser role because he was the baddie, but he had some good fight scenes, especially with Rothrock; and Rothrock was great as the trainer who then takes on a more active role in fighting. Not the best of their team-ups, but not a bad one either.
One of the best
Gary Daniels
films we've reviewed is
Bloodmoon
, and like
Darren Shahlavi
, who was great but hasn't had the roles since then that he deserves, the same can be said for Chuck Jefferys, who is also a fantastic fighter. He seems to be here more for his comic relief-- and his great Eddie Murphy impression-- but when he gets his chances to show off his prodigious martial arts skills, he doesn't disappoint. A guy that definitely deserved more work.
All right, I'm going to get a little film snobby on you and bring up Yasujiro Ozu, but bear with me, I have a point. This movie, though it obviously wasn't completely Ozu-style, had some of his hallmarks, particularly a still frame that he allowed all of the action to move within without excessively panning or zooming in. (You're going to think I'm crazy when you see the one clip I decided post, because that's all kinds of edits and whatnot, but I swear, that was the exception.) One thing Ebert remarked on with Ozu's style is that it allows the viewer to fall into a rhythm, which makes the movie pass quicker in our minds, as opposed to something like
Armageddon
, where no shot is on the screen for more than a second, and as a result, because it's so cut up, it takes forever.
Fight to Win
is a great example of that juxtaposition with the modern punchfighting movie, that is a mess of bad edits and gimmicky crap that diverts out attention. We have fight scenes in this that are allowed to breathe in front of us in one continuous shot with a camera that moves ever so slightly to keep all of the action within frame, and for us the viewer, it makes it easier to get into. The thing is, this movie looks like it was made on a shoestring budget, so if
they
can make a fight look good with limited edits and zero computer gimmicks, then the modern DTV flick should have no problem either.
That's Hall of Fame (NFL not DTVC) safety Ronnie Lott. He has a short cameo where he comes in on a four-wheeler and shoots a bunch of guys up, then banters with one of the good guys. It's crazy to think how much the world of football has changed between 1987 and now. In 1987, Lott's 49ers were one of the best teams ever, and the idea that they would ever be the sack of asscrack they are now was inconceivable. At the same time, the idea that instead of the '9ers, it's the Pats that are one of the best teams, is equally crazy. I guess it's a reminder that nothing in sports is guaranteed, and the Pats could drop out eventually too.
And that's it, this is a good one, if you can find it. VHS, and I'll tell you, this transfer isn't great-- lots of scratches from the source film. But for you VHS nostalgists, that probably makes it all the better. I think this is more of a collector's flick, so keep your eyes peeled, and don't be afraid to spend, because it's a good one for your collection. They don't make 'em like this anymore, which is too bad.
For more info:
http://www.imdb.com/title/tt0165776/