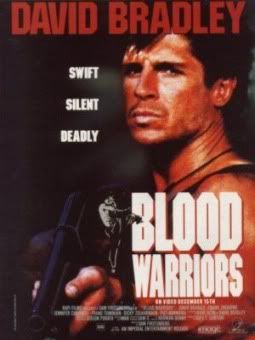 It was time to get a little
David Bradley
up on the DTVC again, and this one also starred
Frank Zagarino
, so I thought, what the hell. That, and I got this from a friend on VHS, had an open slot here, and figured I'd go for it. I can always go to David Bradley in a pinch.
Blood Warriors
has native Texan David Bradley playing a Marine from Texas who finds himself in jail. His ol' Marine buddy Frank Zagarino bails him out, gets his sentence dropped, and covers the mortgage on his dad's farm. The catch: he needs to board a plane to Jakarta and help Zags out on some business there. En route, Zags is killed, so Bradley catches up with his hot sister. When Zags's business competitor finds out his casket is empty, things get crazy. Is Zags still alive? And if he is, can Bradley trust him? And isn't this action hero gig a pretty sweet deal when you get love scenes with the woman who played the model on
Seinfeld
?
This isn't horrible, but it's not exactly great either. The beginning goes a little long before we get any good action, and while the action is decent, it's nothing spectacular. I felt like there were more missed opportunities than great moments, which is never a good thing. For instance, Zags is showing off for Bradley how well his mercs can fight. Bradley just sits there, then is all like "I don't want to be in your gang, Zags." What we needed there was a
Jeff Wincott
in
Mission of Justice
scene, you know, the one where he's supposed to walk this gauntlet, acts like he's not going to do it, then quickly turns and flips into the middle of all these dudes, and totally houses them. Bradley needed to kick all their asses, then throw on his cowboy hat, pop his collar, and tell Zags he'll be in his room if he needs him. With an action movie that has guys like Bradley and Zagarino, you can't have them sitting on the sidelines, and unfortunately, that happened too often.
Gotta love the Bradley in a cowboy hat look. Maybe not quite the fanny pack, but it's close. I know Bradley is from Texas, but he's too much of a dandy for Texas good ol' boy to work. He's a thinking man's lead, smooth, cleancut, sharply tailored suits and sleek automobiles. He needs to cruise into town in an expensive convertible and take out gangs of toughs with nice looking roundhouses and jumpkicks, throw on his sunglasses and tell the guys to have a nice day. The fact that Bradley co-wrote the script tells me he wanted to get away from that image some. Come on man, be who you are, and be proud of it.
Zagarino isn't in this much. He's kind of like Orson Welles in
The Third Man
, only his name is "Stone" instead of "Lime". Keith Stone, actually, not to be confused with the guy from the Keystone beer commercials. As far as I can tell, beer commercials, and in particular light beer commercials, are so bad it's almost criminal, but the Keith Stone ones are one of the few I like. Really, I'm more of a man if I drink your light beer? Or maybe you're more of a moron.
Sam Firstenberg
directed this, and as I'm sure you know, he has a pretty solid track record.
American Ninja
,
American Ninja 2
,
Avenging Force
-- though he was also the man who put Bradley in a fanny pack in
Cyborg Cop
-- though to his credit, he made fun of it in the sequel,
Cyborg Cop II
. This was a definite step down from any of the others of his we've reviewed, and it makes me wonder if maybe something went wrong in post-production that hurt this thing-- or maybe it's his
Jersey Girl
.
Seinfeld
fans will recognize Jennifer Campbell as the model Jerry meets flying home in first class, and then who sees him scratching his nose at a red light, and erroneously thinks he's picking it. I looked on her resume, and though she did do some action based TV shows, I didn't see another action movie after this, and I can kind of see why. She was pushed and pulled and dragged and carried and sent through the ringer in this bad boy. At one point, Bradley is carrying her over his shoulder, which made very little sense, since she seemed like she could run just fine-- and run faster than Bradley could run carrying her. It probably makes sense why we don't see as many repeat action movie female co-stars, it's a much easier paycheck looking disgusted when you think Jerry Seinfeld picked his nose.
This is not an easy find, out of print, only available on VHS. Maybe for completists, because it is Bradley and Zagarino directed by Firstenberg, but that's a big stretch. If you see it cheap in a bargain bin and don't have much else already in your basket, I guess you could go for it and add it to your bad action collection.
For more info:
http://www.imdb.com/title/tt0106432/