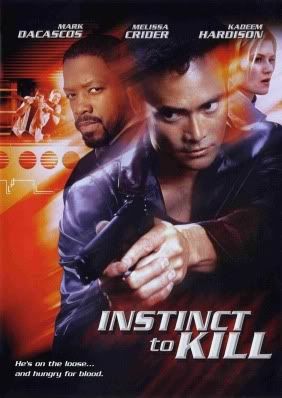 I wasn't sure what to expect from this one, but I liked that it had
Mark Dacascos
, and I liked that he was reunited with Kadeem Hardison, whom he was great with in
Drive
. If this ends up being half the movie
Drive
was, we'll be in pretty good shape.
Instinct to Kill
has
Tim Abell
as a psychopathic police detective, who splits time away from the force between being a serial killer and an abusive husband. It's his battered wife that finds out about the serial killing and turns him in, and when he escapes from prison, he wants revenge on her. She decides she's had it with being a victim, so she goes to Dacascos to learn to defend herself. Problem: she's not through with the training before Abell comes after her. Now Dacascos and her and Abell's old police partner, Kadeem Hardison, need to work together to take him down.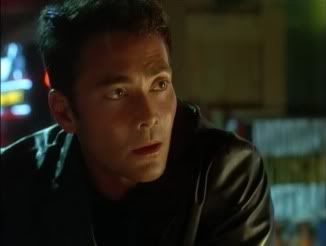 This one wasn't bad. It was mostly carried by Tim Abell, who was an exceptional baddie, but from there, Dacascos was great as the hero, and Melissa Crider solid as the woman fighting back. It had a few good fight scenes too, especially a couple between Dacascos and Abell. The problem was that I think it initially was supposed to be more about Crider taking down Abell-- hence the original title of
The Perfect Husband
-- and that left us with some inconsistencies, as Dacascos felt shoe-horned in in parts, or his role felt beefed up as opposed to naturally centered on him. That's a difficult thing to mitigate, because Dacascos is so good, it would be hard not to have him and Abell go at it. Overall, not bad though.
Let's start with Dacascos. This is not the kind of role where he's going to get a ton of fight scenes, meaning it's not in the ballpark of something like
Drive
, but he's still pretty solid. His fight scenes were choreographed by James Lew, and I think Lew wanted to go with more realism and less flash, which worked within the framework of the film, but left something to be desired as an action fan. The other thing that worked against him, was the wife's revenge/redemption aspect, because that undermined him as the hero. He had to be defeated by Abell so she could finally deliver the final shot and confront her demons.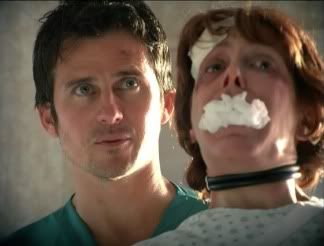 As I said above, Tim Abell was absolutely chilling as the baddie. Every time he was in a scene, there was a sense bad things were going to happen-- and when I say bad, I mean evil. Think along the lines of Javier Bardem in
No Country for Old Men
. That really made this movie for me. Everything centered on how horrible he was, and how badly people needed to stop him. He's been a baddie in films we've seen before at the DTVC, including
Storm Trooper
where he also played an abusive husband (though nowhere near what he was here), and
The Base
, where he was also a baddie opposite Dacascos. It's this role, though, that earns him his DTVC tag. Great stuff.
This was executively produced by Mark L. Lester. Yes,
that
Mark L. Lester. This did not feel like a Mark L. Lester film though, except for one scene where Abell disguises himself as an old lady pushing a stroller, which he rolls into the back of an unmarked police car with two detectives inside staking out his old house. The cops look at him, not knowing what to think, then they see the bomb in the stroller, but it's too late, the whole thing blows up. There's also a pretty big shoot out in a hospital that was Lester-ish. But, alas, he was only the executive producer, so this was not as awesome as
Showdown in Little Tokyo
, et al.
Abell's character was something of a master of disguise, though it seemed like he always looked kind of like himself-- it was like people who worked with Clark Kent not knowing he's Superman because he's wearing glasses. Anyway, in this one scene, it looks like he's disguised as Chris Meloni. My favorite Chris Meloni role is as the cook in
Wet Hot American Summer
. I think a lot of people are used to seeing him as Stabler in
Law and Order: SVU
, but he's one of the better comedic actors working today, and hopefully we'll see more of that now that he's left that show.
I give this a somewhat cautious recommendation, just because, while it has some action, action isn't the main focus. Dacascos is good, and Abell is even better, so there's something there to hang your hat on. Still, this isn't the exceptional action flick we're looking for from Dacascos, especially with
Drive
on his resume.
For more info:
http://www.imdb.com/title/tt0291265/