This film was brought to my radar through a Tumblr site, Rise, which you can check out
here
. Really cool stuff there, especially some great pics from 80s flicks and TV shows. They posted a covershot from
Split Second
(not the one I used here), and I thought it was pretty sweet and reblogged it. I also realized that A) I needed to get some more
Rutger Hauer
up here, and B) I'd never seen this one before. So I put some work in and found out a buddy that's a pretty huge Rutger Hauer fan had it, so here we are.
Split Second
takes place 3 years ago, when London is partially flooded due to Global Warming induced rains. Insert Hauer as a police detective who doesn't follow the rules, is reckless and dangerous, and has discovered a serial killer that he thought was gone is back and viciously killing people. But what is this thing? Is it even human? And does he have the firepower to stop it?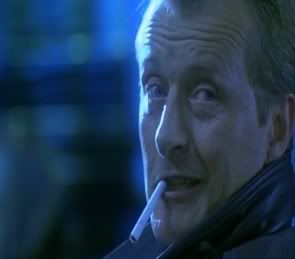 This one falls short for me. Liked the premise and loved Hauer. It felt like it would've made a great 90s syndicated TV show, with Hauer as the lead reoccurring character, and this would've been a sweet one episode in said TV show. It just didn't quite have enough material for 90 minutes worth of movie. The first 40 minutes were pretty lackluster, then it picks up with the introduction of Kim Cattrall's character, and more consistent danger from the baddie that gives Hauer more than just mean-mugging and great one-liners to do. Then we get an extended ending which we needed to transition to quicker, something that I might have forgiven more had we not had a stagnant first 40 minutes or so, because it was good once we got there, but I'd already had enough "let's get on with it"s. This definitely had its moments, but overall was a miss.
I will say one thing for it though, this is some fantastic Rutger Hauer. This is certainly no Hauer bait-and-switch, this is the kind of too sweet Hauer that makes me fall for the bait-and-switch, the kind of Hauer that got him in the Hall of Fame in the first place. Everything is awesome, from the leather duster, the shades, the cigar and cigarette smoking, and the sweet one-liners. His character was a bit of a dick though, which was a bit of a drawback, but they made up for it by giving him a huge gun. Too bad even his awesomeness couldn't carry this film through its dead spots.
This is some interesting Kim Cattrall. First off, she's something of a main character, but doesn't appear until around the 40 minute mark. Second, her hair is kind of weird, like a bob, but with the area right next to the ear shaved. What, is that supposed to be futuristic? Also, she has a shower scene, and boobs are shown. I know some people watch these movies for things like that, so yes, Kim Cattrall nude scene in
Split Second.
(And no, I didn't post any pics of it.)
The late Pete Postletwaite has a small part in this as the jerk fellow officer that's always giving Hauer a hard time. You can see from that image how far that gets him. In 1992, he made appearances in three TV shows, and four movies, including this one,
Alien³
, and
Last of the Mohicans
. I've always loved Pete Postletwaite, and he will be missed. Here's to you Pete, you were one of the good ones.
I don't want to give too much of this movie away, but let's just say it [cough cough] emulates [cough cough] a few sci-fi classics that came before it. I don't have a problem with that at all. As long as there's stuff happening, a rip-off can be a lot of fun. With this one, it's almost as if the rip-off is an afterthought though, like they were writing a classic serial killer suspense thriller, and then couldn't figure out how to end it, and came up with all this madness. Problem is, the serial killer suspense thriller stuff was too boring, so by the time we got to the fun rip-off, I was too bored. On the other hand, I can see how many people would go into this, be bored by the beginning, then have so much fun with the end, that they forget the horrible beginning. I know this feeling. When I saw Iggy Pop in concert, he was so good, I literally forgot about the horrible opening act. I mean that too, a buddy I saw the show with brought up the opening act, and I was like "what opening act?"
According to Amazon, there actually is a region 1 DVD of this, and it'll run you about $125 used. I'm not kidding. Obviously, that's not what you want, and on VHS you can get it used for much cheaper, under $5. If you see it for a couple bucks, it's worth it for the great Rutger Hauer, but otherwise, it leaves quite a bit to be desired.
For more info:
http://www.imdb.com/title/tt0105459/