This just sounds awesome, right? DTVC favorite
Jeff Wincott
in a flick titled
When the Bullet Hits the Bone
? How can you go wrong, right? But if there's anything we've learned in our 4-plus years of posting reviews at the DTVC, what sounds awesome can just as easily be not.
When the Bullet Hits the Bone
has nothing to do with the Golden Earring song "Twilight Zone", but rather has Wincott as a trauma surgeon who has had it, and the vegan straw that finally breaks the carnivore's back comes when he's almost killed after witnessing some drug dealer business gone bad. He decides he's had enough of drug problems and all the work they send him in the ER, so he takes things into his own hands, hoping to save a woman he saw at the scene when he was almost killed, and take down the kingpin she works for.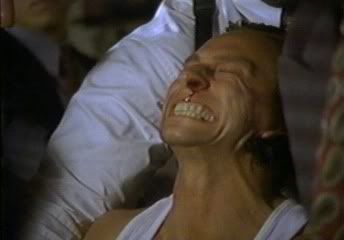 This is another of the Noir-ish Wincott dramas, and though it wasn't as poorly made or as convoluted as
Fatal Combat
, it still was a little off. Fingers were cut off, surgical blades were stuck under fingernails, old men were forced to do push-ups before murdered-- it was just kind of weird. Not to mention, Wincott doesn't do any martial arts, which makes it a step down from
Fatal Combat
. The thing is, the Film Noir is genre isn't as easy to pull off well as people think, and maybe because I've seen a lot of it and seen it done well, I'm harder on stuff like this than others who watch more action flicks and think "hey, cool, Wincott's trying something different." Both this and
Fatal Combat
miss a lot of the style that makes Noir Noir: the steamy plots, the intrigue, the mystery. A few cute camera angles, a voice over, and a few severed limbs does not Noir make. What we're left with then is a substandard drama with very little action or solid substance.
Thinking about it though, of all the great 90s DTV action leads, Wincott might have been best suited to play a legitimate Film Noir lead. The smoking, the scowling-- plus, he had a great voice for the voice overs, I had no complaints with those. If you could somehow merge the two genres, go really Nikkatsu/Seijun Suzuki-style action based Noir, but infuse it with a fight scene like every fifteen or twenty minutes, yet still have that Raymond Chandler detective element, I think you'd have something really cool. There's no reason why Wincott couldn't still make that movie.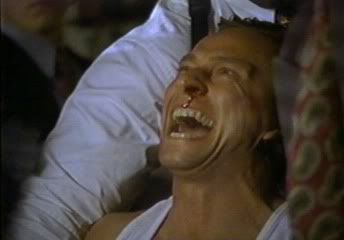 One of the funny things about this is that it was obviously shot in Canada with pretty much an all Canadian cast, yet they were adamant that the film was set in New York. The main baddie's hatchetman had this thing where he grilled people on somewhat obscure American history trivia, like he asked Wincott who the 13th president was before he shot him. It's like "Hey man, I'm sorey, but I grew up in Canadia, eh?" Come on, mix it up, why not just set the movie in Toronto or Montreal? It'll be more fun for everyone-- I'd love some obscure Canadian history trivia in my DTV action.
This had a fair amount of Canadian character actor mainstays: Michelle Johnson, Douglas O'Keeffe, Richard Fitzpatrick, Phillip Jarrett-- Jarrett is Canadian, right? My favorite was Torri Higginson, whom most of you will know from
Stargate: Atlantis
, but whom DTVC fans might remember from the
Roddy Piper
flick
Jungleground
, where she plays his love interest. In this movie, Higginson plays a hospital nurse that helps Wincott escape the baddies trying to kill him as he's recovering, then restores him to health-- and after that's she's hit by a stray bullet. I would've liked to see more Higginson, maybe even her own close-up, but alas, that was all we got.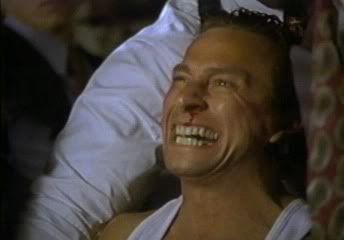 You may have noticed that all the pics have been of Wincott making funny faces in the same scene. I may be incorrect, but I believe the last time I did something similar was when I did three
Gary Busey
pics in the sack of asscrack
The Stoned Age
review. Anyway, this scene from this movie came when Wincott had his finger chopped off. They don't show it, we just see the knife placed near his finger, he's given one last chance to give up the information, then all we hear is a thump, and Wincott starts making these faces to show us that, in fact, his finger was severed. As if that wasn't enough, the baddie then takes said severed digit, and holds it up to show us he'll use it to activate a bomb attached to Wincott's parents' car. Hey, stay classy movie.
It looks like in the US it's VHS or bust-- that's what I viewed this on-- but the Aussies have themselves a DVD cut. Good for you guys. Not sure how worth it is in any case, this one just didn't work for me. Kudos to Wincott and everyone involved for going outside the box, but unfortunately, going outside the box just isn't enough.
For more info:
http://www.imdb.com/title/tt0114918/