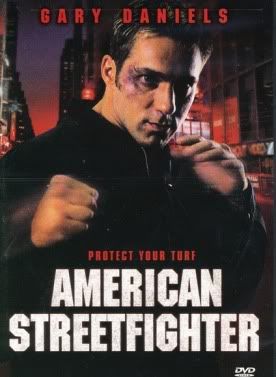 I got this one from Netflix almost immediately after
Full Impact
, but I wanted to space out my
Gary Daniels
posts. I then wanted to save it for the 4th of July, make it a kind of ironic celebration of America post, considering the title of the film is meant to be ironic with Daniels as the "American Streetfighter" when we know he's a Limey-- sorry. is that insulting to my English readers? Also, two other bloggers have done this one that I know of off the top of my head,
Comeuppance Reviews
and
Explosive Action
. If anyone else did it too, by all means, throw your link in the comments section.
American Streetfighter
has Daniels as a dude who gets into trouble and needs to ditch town, so he flees to Hong Kong, where in ten years he becomes a millionaire (how is irrelevant apparently, and I'm not mad at them for that at all). Problem is, he needs to head home, because little brother Ian Jacklin is in some underground fights, and anyone who's seen Jacklin knows he's not good enough to carry a picture, so Daniels reluctantly agrees to come back and take over the film from him, at which time he's dubbed ironically "The American Streetfighter".
The first pic after the coverscreen is almost always of the main star, but I went with this one to make a point. I don't know my cars that well, but that looks like a two-door Ford LTD, circa 1984, originally all black, now with the doors painted white to make it look like what, a police car? Yes, that is supposed to pass as a police car. How amazing is that? And that comes after one of the craziest action sequences ever, with a dirt bike crashing through a dojo, a guy getting lit on fire with the gas from the gas tank of said dirt bike-- or maybe it's another-- a fat guy running away from Daniels and tripping and stumbling like he's in a slasherflick victim, Kent Ducanon getting dragged by another dirt bike, and Daniels giving chase and getting shot at by a dude in a biplane,
North by Northwest
style. It has a very strong so bad it's good element, plus a lot of the surreal strangeness that I loved in
Capital Punishment
. On that score, a lot of this worked.
But here's where I'm torn, because there's a lot of it that isn't the fun bad action romp that
Full Impact
or
Capital Punishment
were. Weird scenes with a kid training Daniels to fight. A plot twist where Jacklin, the whole reason Daniels is back in the States and fighting, is killed right in front of Daniels, and it happens near the end. What the hell is the point then? But I'm reminded of a line at the end of the Explosive Action review: "if you weren't into [this] kind of movie, why would you be at a blog called Explosive Action?" And I think therein lies the rub, if you can't appreciate an '84 two-door LTD that's supposed to pass as a police car, after one of the most absurd action sequences you've ever seen, then yes, Matt, why would you be writing a blog called The Direct to Video Connoisseur, and again, why any of you be reading it?
I will say the plot was much less becoming on Daniels here than the other Cine Excel Daniels vehicles, and in that sense, that makes this harder to take. He does less fighting, plus there's the whole
Yojimbo
fallen warrior heals himself scenario, which involved a kid training him, which I'll get into in a second. Daniels also doesn't get as many good fight scenes in, especially early, which is a strike against this, but on the other hand, the ones he does get are either great, or so silly you have to love them. And to finish with a samurai sword fight in a funeral parlor. That's beautiful.
We know, it's maybe Rule Number Three to making good bad action movies, don't cast the annoying kid, and this one took the gamble, and like the rest, lost. Still, though, the absurdity of having the kid train Daniels was so bad it was hard not to laugh at it, especially the scene after the kid trains him, when he tells Daniels "you still need my help", to which Daniels replies "no I don't", "yes you do", "no I don't, I don't need anyone's help, will you just leave me alone!" It was like Joe Don Baker as Mitchell arguing with the Adam Rich lookalike while staking out Martin Balsam.
I'm kicking myself right now, because I totally forgot to cap an image of Daniels in his short-sleeved button up shirt that he wore with a tie under his sport coat. He looked like a traveling preacher or a reverend or something. See, I need to start taking notes when I watch these, but at the time I'm thinking "I won't forget something like Gary Daniels looking like a reverend with a ponytail", and then I'm here, typing the post, the DVD long since sent back to Netflix and the review for the DVD that replaced it written yesterday (
Hatchet II
) and that DVD already sent back, wishing I could get a pic of that so you can see it. Take my word for it, it was hilarious.
As was so much of this movie. But there's a lot of roughage that isn't that funny and is just plain bad. I think it's more a case of how much do you have in you? How creative are you? How funny are you? And how much do you enjoy the so bad it's good? Obviously, to turn a phrase from Explosive Action, you must enjoy it quite a bit to be here, so load up both holsters full of your best riff material, and fire up this bad boy and see what you and your buddies have got. If it's all that you thought it would be, or better, then you really are a bad movie master-- and I daresay you get what this is all about, perhaps even a little better than I do, though after
American Streetfighter
, I'm learning to work on it.
For more info:
http://www.imdb.com/title/tt0103674/