This had a very limited theatrical run, earning a shade over $600,000 at the box office, but it stars DTVC Hall of Famer
Rutger Hauer
, and the subject matter looks like it's right up our alley. I waited for it to come out on DVD, which it did about a week ago. Let's see how it went.
Hobo with a Shotgun
takes place in a fictional depraved city that's ruled by an equally depraved crime boss (Brian Downey from
Lexx
) and his two sons. After seeing their tyranny for a few days, hobo Rutger Hauer decides he's had enough, and wants to take the city back for the people through the business end of a pump action shotgun. Naturally, the crime boss thinks this is an untenable situation, and he wants Hauer out.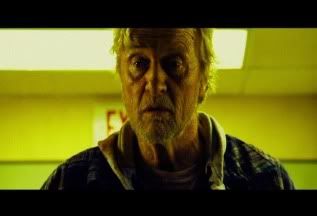 Wow, 70s Grindhouse excess in 2011, right there for your consumption. It's a lot to swallow, so be prepared. Excessively gruesome, violent, and gory,
Hobo with a Shotgun
doesn't pull any punches-- in fact it's more like Hans Gruber telling his men to fire on the police department's SWAT vehicle. "Hans you motherfucker you've made your point, let 'em pull back!" "Thank you Mr. Cowboy, I'll take it under advisement. Hit it again." Oh, and does it hit it again. At the end of it I felt like Clarence Gilyard was in my face saying "Oh my God the quarterback is toast!", because I was toast. Good or bad, I don't know, but I had fun, so you can take that for what it's worth.
Rutger Hauer can still carry a film as the heroic lead, even into his late 60s-- something to give guys like
Steven Seagal
hope. This is the kind of action hero you're rooting for from the jump, and the baddies are so bad that we need a Rutger Hauer to come in with a pump action shotgun and sort them all out. As a hall of famer, he's one of the original standard bearers, along with someone like a
Klaus Kinski
, who helped create and define the world of DTV so guys like
Dolph Lundgren
,
Michael Dudikoff
, and
Gary Daniels
could thrive in it, and guys like
Jean-Claude Van Damme
and Seagal could drop into it after their big screen careers were done. He reminds us of that legacy here, both that the DTV industry had its roots in the 70s Grindhouse, and that he is one of the point men that got us to where we are today. Vintage Hauer.
In the past I have gotten on films for goriness that I felt was depraved or way out of place, so it may seem like I'm talking out of both sides of my mouth for enjoying it here. Let me explain. This movie hangs its hat on extreme, out of control, borderline silly gore, and from the start this is what we're sold, and it never wavers. This is totally different from an action film that wants some cheap "dark" cred by grafting in an out of place and disturbingly bad torture scene where someone loses an earlobe or fingers or something odd like that. This movie does everything with the volume cranked up to eleven, and the gore is so over the top that it's meant purely to have fun with, not as cheap "dark" cred, and that's why I enjoyed it.
One of the funnier parts of the film came near the end, when the head baddie called in two armor clad badasses called The Plague. Look at that one, he looks like the mask from the cover of Quiet Riot's
Metal Health
album. Remember that bad boy? The video for "Come on Feel the Noise" also had that mask in it. Too bad Kevin DuBrow is longer with us. Here's to you Mr. DuBrow, you were one of the good ones.
This is the second film we've done recently that was released by Magnet, the other being the
Wings Hauser
flick
Rubber
. For me this is a two-for-two, but I know a lot of people have been lukewarm, or less, on both, and I can see that. Either way, I think it's great that there is a distribution house out there fighting the good fight and getting these movies out there for us to see-- and based on the fact that a lot of people have said they didn't like either or both of these, it shows the kind of risk they take financially in bankrolling projects like this. Luckily the good citizens of Canada and Halifax, Nova Scotia provided their tax dollars to defray a lot of
Hobo with a Shotgun
's cost.
You can get this pretty much anywhere, the question is: are you up for it? This isn't an action flick so much as an amped up gorefest/exploitation flick that's like bad horror in the style of bad action, if that makes sense. If you're thinking something like
Falling Down
with Rutger Hauer in Michael Douglas's part, you'd be way off, and may be upset with what you find. If not, if you're up for this, then I think you'll enjoy it.
For more info:
http://www.imdb.com/title/tt1640459/