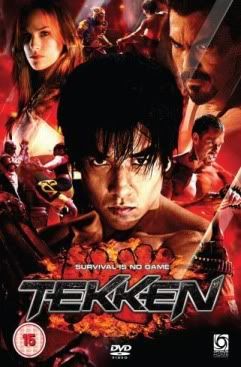 This is one we've been waiting for for a long time. First off, I absolutely love the game. My buddies and I used to play
Tekken Tag
all the time in my dorm, and I would clean up with the Kings (not knowing until later that the game was unfairly weighted in their favor-- though I prefer to look at it as me being so awesome...); second, and almost as important, DTVC Hall of Famer
Gary Daniels
plays Bryan Fury, which was something I needed to see. Finally,
Cary-Hiroyuki Tagawa
was cast as Heihachi, which just seems like a perfect casting choice.
Tekken
follows the young Jin Kazama, who works as a high risk courier in a slum outside of Tekken City known as the Anvil. After he transports some vital Tekken technology to an insurgent group, Heihachi's son Kazuya sends troops in to get Jin, killing his mother Jun instead. Jin swears revenge on Heihachi, and to get that revenge, enters the Iron Fist fighting tournament. Kazuya smells something fishy about this new kid, and while wanting to take over his father's empire, he wants to stop this Jin kid at all costs.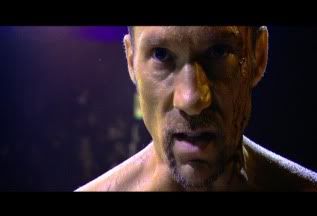 The hard part here is parsing out the Me as a Tekken fan and the Me as (wannabe) movie reviewer. The latter Me thinks this wasn't too bad. The fights were good, the plot wasn't too bad, and the cast was pretty sweet. As a tournament flick, I dug this one all right. As a fan of the video game though, this left quite a bit to be desired. First was the choice of characters. No King and no Paul, two of the franchise's biggest names. Hey, I understand if you don't want pandas and boxing kangaroos-- though I would've loved to have seen those-- but you can't leave out some of the heavier hitters too. On top of that, there were some, like Tiger, who would've made great inclusions to give this movie more umph-- in Tiger's case as a way to bring in some Jim Kelly style flair. With some of those characters that they could've gone with instead of the ones they did, I can see from the movie reviewer Me how this could've been a much better movie than it was, so while I liked it, I wanted to like it more.
Gary Daniels as Bryan Fury was another area that was good, but could've been better. When I think of the great tournament film heavies,
Bolo Yeung
foremost among them, we see them do more sinister things than just squat thrusts and busting cinder blocks-- which is all Daniels did here, and before his fight with Jin, he has only one other. Something that would've been great is to draw from Bolo Yeung's fight with Donald Gibb in
Bloodsport
and have Daniels beat up either Kelly Overton's Christie Monteiro or Luke Goss, and give our hero Jin that added incentive to take Fury down-- even better in the former's case, because her character devolves into a damsel in distress role. It would've been a way to both build Daniels's character, and keep Overton's consistent as a hardened fighter recouping in the hospital instead of a worried damsel in distress hoping Jin saves her.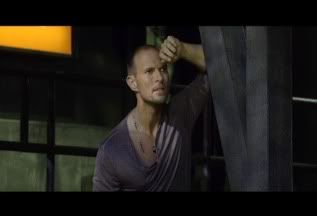 I thought I'd devote an entire paragraph to Luke Goss, even with all of the other actors that were in this film, because in the
Blood Out
review I made some comments about the way he was sold to us as a tough guy and hero. This movie did everything right that
Blood Out
did wrong. First, they kept his English accent. Much cooler calling guys "wankers" than using American Jackass speak. Second, he was never handcuffed to a bathroom sink while dressed in a Mayberry sheriff's deputy uniform. Third, because he wasn't already starting in the hole as far as coolness points go, he had a solid base from which to build his character and make him believable as Jin's corner man and mentor. This is the Luke Goss I've been looking for, and I hope I see more of it.
Tagawa as Heihachi is an obvious choice-- few do lead baddie like he does-- but then Ian Anthony Dale as Kazuya, and John Foo as Jin and Tamlyn Tomita as Jun were equally stellar. I don't even care that Dale was playing Foo's father, and he's only 4 years older. There were hints at the end of a sequel in the works, and I hope they really bring it with those characters that much more: for instance, I'd love to see Dale playing both Kazuya and the Devil. No matter what, though, they gotta get those Kings in next go around too. I need to see me some Giant Swings.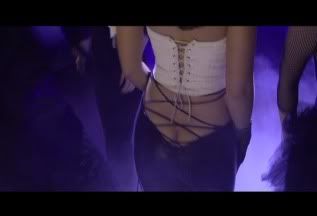 You might not be able to see exactly what's going on in this picture, but what we have here is Butt Cleavage. Kelly Overton's leather pants don't quite fit, and are laced up in the back, revealing the top of her buttcrack, pushed together so it looks like a miniature version of chest cleavage-- or just cleavage until the advent of Butt Cleavage. I wonder if this was a wardrobe malfunction, like "oh my God, the leather pants aren't fitting on Kelly! I thought you took her measurements!" "Calm down, I'll take care of this. They don't call me the MacGyver of Wardrobe for nothing." "Who's 'they'?" Well, he or she lived up to their reputation, because this was a great save, worthy of an Oscar nod.
Did we really just do a paragraph on "Butt Cleavage"? I guess it's time to call it a post then. Overall, this is a decent tournament fighting flick, with solid and well choreographed fights, a good cast, and a nice plot. Could it have been better? Yes, definitely. But do I think you'll enjoy it? Probably, and I think that's good enough for a recommendation.
For more info:
http://www.imdb.com/title/tt0411951/