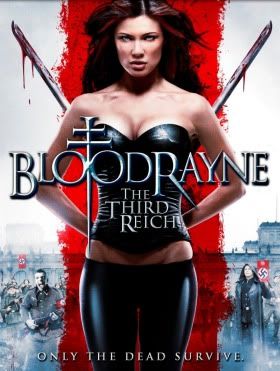 We're back in the
Uwe Boll
ring, this time with another
Bloodrayne
movie. I wasn't a big fan of
the last one
-- not really the one before that either-- but with
Michael Paré
and Clint Howard, I couldn't in good conscience stay off this one. Unfortunately, I realized too late that the DVD version I got from Netflix is the R-rated one, which at 79 minutes long is 16 minutes shorter than the unrated version. Keep that in mind if you've seen the latter as you read this review.
Bloodrayne: The Third Reich
takes place, you guessed it, in the heart of Nazi Germany. Our heroine doesn't like Nazis, but in the process of taking out a bunch of them, bites Michael Paré, a commandant, and that turns him. That's bad news, because Pare is a kickass vampire, and after thirty minutes of nothing really happening, he decides, with Dr. Mangler's (Clint Howard) help, to create an army of Nazi vampires. Can Rayne stop them?
Wow, this could've been amazing. I don't know what happened, but the whole thing got all bogged down in a story that was useless, a bunch of monotony that was only broken up by a solid lesbian scene. Not only that, but I felt like Clint Howard was wasted. He had one good mad scientist scene, and from there he was just reciting bad dialog written by someone who speaks English as a second language, which is funny, but not funny enough. Then there was the leader of the rebellion, who was a tool, but Bloodrayne's love interest or something. Boll has this thing for casting tools as lead guys in these Bloodrayne movies. On the other hand, the beginning (after a 6 minute credit sequence) was good, and the last 20 minutes were pretty solid. If this hit a more boom, boom, action; boom, boom, action pace, as opposed to action, nothing, blah, lesbian scene, nothing, blah, action, it would've been much better.
Michael Paré is becoming something of a Uwe Boll mainstay. Here he plays the main villain, and he's pretty good at it. The problem is, he's given a bunch of bad scenes where he's trying to come to terms with being a vampire or something. They needed to cut that shit out and go right into him creating a Nazi Vampire Army with Clint Howard, providing tons of fodder for sweet fight scenes with Bloodrayne. Unfortunately, none of that happened. Still, he was a solid baddie. Paré has a pretty robust late 80s/early 90s DTV catalog that we've only just scratched the surface of (much to the chagrin of our friend Kenner at
Movies in the Attic
). Hopefully we'll start making more of that happen in the near future.
Nastassia Malthe reprises her role as the eponymous heroine. The thing that always betrays her is the toolbags she's cast opposite of, this time the leader of the rebellion. I can understand her wanting to get a cheap lay in with the guy while she's in a prison van heading to meet Hitler, but to take the guy seriously? That's too much. Also, for a hot action chick, she doesn't get a lot of action in. Uwe Boll needs to fix that if he plans on making a fourth one of these with a Croatian tax credit. Still, love the red streaks, black nail polish, and black leather vintage American football helmet-- hot look.
I'm a big Clint Howard guy, and when I saw him on the cast list and based on the first scene he was in, I was expecting an evil scientist worthy of a 40s/50s sci-fi/horror flick. Again, not what I got, I got a lot of bad dialog that was supposed to sound like intelligent, sophisticated dialog. Come on now. Didn't you see
Ice Cream Man
? Get after it Uwe Boll, and have fun with it. We don't want a serious plot driven film about vampires in Nazi Germany, especially one with a substandard plot; we want some crazy-assed shit, especially when we see Clint Howard on the cast list.
Uwe Boll seems like he should be perfect for what we do here at the DTVC, just like
The Asylum
or
Albert Pyun
; but I seem to dislike more of his movies than I enjoy them. I don't know what it is. Part of it is the bad story arcs that dominate what should be fun bad action and horror; and part of it is the casting decisions he makes. Here it was the leader of the rebellion. Then there's an annoying doughy guy he used in
Bloodrayne II
and
Far Cry
. It's like he's a good idea at the time, but in the execution he doesn't work.
And therein lies the rub. While this had pieces that worked, it had more that didn't, and ultimately made it something I couldn't recommend. That's too bad, because I wanted to like this, and I should've liked this. Uwe Boll just couldn't get out of his own way.
For more info:
http://www.imdb.com/title/tt1153546/