I've had this one for some time now, but put it on my back burner in order to get a few other reviews up instead. Then Netflix sent me the DVD with parts two and three, which put my feet to the fire and made me shuffle things around some. It works though, I've been meaning to get some
Martin Kove
up here anyway. Also, our man Ty at
Comeuppance Reviews
has hit this one too.
Project: Shadowchaser
has
Frank Zagarino
as Romulus, an android killing machine designed by diabolical scientist and apparent big time Susan Powter fan Joss Ackland. Romulus has something of an existentialist crisis, and takes it out on everyone else by taking a hospital hostage that just happens to have Meg Foster, the President's daughter, visiting. The feds need to get her back, so they erroneously take Martin Kove out of his deep freeze imprisonment, thinking they're freeing the hospital's architect with the hope that he could give them some insight into a rescue attempt, only to have the team die in an elevator explosion. Now Kove is knee deep in it, but he may also just be America and the First Daughter's last hope.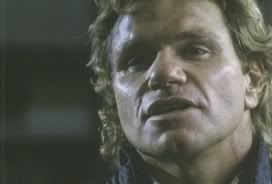 This had its issues, was pretty derivative-- see
Die Hard
in a hospital-- but overall I think it worked in that 90s DTV sci-fi action cheese vein. I mean, you're not looking for Kurosawa when you fire one of these bad boys up, and this pretty much hit all the spots you'd want it too. It did have some slow areas, but with Kove involved they weren't too intolerable. He had fun with this, and his attitude had a trickle down affect through the cast, with everyone playing off him, and that fun translated well to the viewer. Maybe a little unremarkable, but for what it was, it worked for me.
Kove was great. He really played up that slick talking resourceful guy who finds himself in an impossible situation. We often don't get to see Kove as the hero (I know there are obvious examples of films where is the hero, I'm just saying they're outweighed by the roles he has as a baddie), so any chance we get is a bonus, because he's so good at it. I can see though why he might prefer being a baddie, because roles like this where the good guy is as fun as the baddie is a rarity-- have you ever noticed the baddie is almost always the most fun role in the film?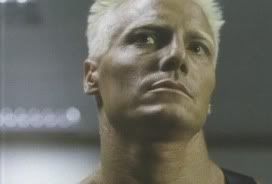 Frank Zagarino makes an excellent robot baddie-- though one could make the case that he's even better in part two when his character is given more of a personality. Either way, this is the role Frank Zagarino was made for. How is it that film makers don't look at this and say "man, this guy is so wooden, why don't we do a
Project: Shadowchaser
and cut the amount of acting that's required?" Also, love the Susan Powter look.
Meg Foster's character was one of the parts of the film I didn't care for, and not because of her, but because it was written very inconsistently. At the beginning we had a tough woman, won't take any crap, not just another pretty face/rich daddy's girl style character that worked really well. Then, as Kove's rescuing her, she suddenly turns vain, decides she needs to change into a dress and heels for her escape, completely betraying anything good the character had built up to that point. Over-writing strikes again, and make a muddled mess out of something that could've been so good-- and that's too bad, because she and Kove had great chemistry.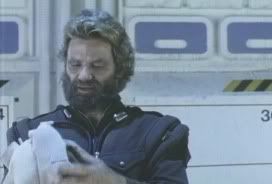 Your eyes aren't deceiving you, that's Kove with a glued on Grizzly Adams. It doesn't get any better, does it? Forget the goatee, the glued on Grizzly Adams is the way to go. I wonder if he's ever rocked the Grizz in any other roles? See, this is where the reader comments section comes in most handy. If you're going to dismiss discussing the movie completely to read off a list of other movies the cast have been in instead, give me something more than just "such and such was a WAY better movie IMO", give me some meat damn it, tell me some other movies that Martin Kove has been in where he rocks the Grizz. The request/suggestion box is full of movies right now, so if you want to stand out you need to bring it.
Now I'm rambling, so it's best we wrap this up. As far as I know, this is only available on VHS, and can be pretty pricey, even used. Not sure it's worth that, but this is a good one for collectors, so you may want to make that decision for yourself. For me, if you can't get it for less than $5, I'd wait.
For more info:
http://www.imdb.com/title/tt0105178/