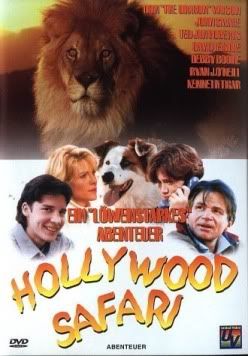 This is it, our last
Don "The Dragon" Wilson
DTV flick. After this review we'll have had them all. I saved this one for last because, even though it's a
PM Entertainment
flick, it's also a family picture, and we really don't do family pictures here at the DTVC. It's solely to complete Wilson's DTV filmography that we're reviewing it-- though a PM Entertainment family movie does intrigue me.
Hollywood Safari
follows a family of animal trainers that keep their animals inhumanely locked in small cages, then send them out to Hollywood movie sets and force them to act in movies-- and those are the good guys! The bad guy: a small town deputy, John Savage, who has a power trip after he's given the job of filling in as acting sheriff, and when he catches one of the family's trained mountain lions, he erroneously thinks it's the mountain lion that attacked a kid at a nearby camp. He wants the thing euthanized ASAP so he can get the pub for it having been done under his watch, and he's going insane to see it happen, to the point he's put the family's mother in a jail cell, and is detaining the US Forest Department employees unlawfully until they kill the animal. Can the kids in the family find the real bad mountain lion in time?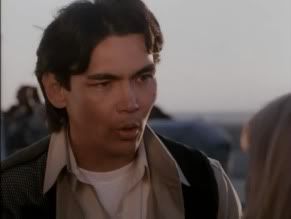 This wasn't that great, and I'm not saying that because it's a family movie and not my bag, but because nothing really happens for a chunk of the middle. It is very fascinating as a PM Entertainment family movie, though, because it manages to sneak in some car chases and more danger than the average family picture. Wilson doesn't have a big role, and no fight scenes-- pretty much he's the jackass who works for the family and can't do anything right, and after the first ten minutes or so, he's done. Savage made a great douchebag style baddie, and his douchebaggery enhanced any quality this movie had that I'd like; plus Joe Isuzu plays the family's father, and Nils Allen Stewart plays a poacher; both guys were solid.
So this is it, thirty posts for Wilson, and his last DTV movie, at least for now, though for the entirety of our time as a blog, Wilson hasn't made a new movie, nor had anything listed as in development. That's too bad, because he's a solid DTV actor with a decent body of work, and guys who are older than him are still at it. Maybe he'll get a shot in the new
Expendables
, even if it's only a small part. I went back and looked at the other 29 reviews, going as far back as post 42 on May 10, 2007 for
Terminal Rush
. For me, his best one was
Inferno
aka
Operation Cobra
co-starring
Evan Lurie
. There's also the
Bloodfists
, for which he was most known. I think here, in
Hollywood Safari
, he might have been fulfilling a contractual obligation or doing a friend a solid, but it's more a novelty that he's here than anything.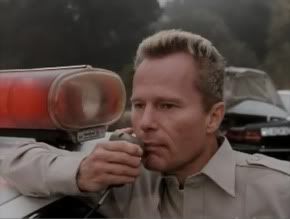 John Savage was a great heel. I wonder if they were like "John, we need you to crank the douchebag knob up to 11, then break it off", because that's what he did. I think he must've had a bad experience with a rule crazy cop or something, and just channeled that anger. I love John Savage, in particular
Do the Right Thing
and
The Thin Red Line
, and we've done a couple of his flicks here,
CIA II: Target Alexa
and
Firestorm
.
Good ol' PM Entertainment. They found a way to get some chase scenes in and flip some cars over, which I was happy about. There was also that "just throw shit in there" mentality that we love from PM Entertainment, especially with family movie cliches, like the dog saving the family. It felt like some of the studio execs were looking over the project and saying "oh, you gotta have the dog save the day. The kids love that shit. Every kids movie has some kind of dog or something that saves the fuckin' day." Then there's the ending where the kids tell the mom that it was the dog that saved the day, and the scene cuts to a slow motion shot of the dog with some heartfelt music playing in the background, and the credits roll. It's almost as if PM Entertainment were making a parody of the family movie, pulling back the sugar coated topping to reveal a big pile of rotten cliches and over-worn plot devices. Again, as I said above, PM Entertainment doing a family movie is intriguing.
I couldn't finish this final Wilson post without dedicating at least one more paragraph to him. I was thinking about where he stands as far as the all time list of DTV action stars goes. If you're looking at strictly DTV career, and not big screen/DTV combined, I have Wilson third, behind
Dolph
and
Michael Dudikoff
.
Gary Daniels
could catch him, but he seems more content with playing bit parts in bigger DTV flicks than staring in his own, and though that will get him the record for most tags, that doesn't compare with the number of films Wilson has done as the main star.
Seagal
is 8 tags behind Wilson, but 8 more DTV movies sounds like a lot considering he just turned 60. And
Van Damme
can't get a movie released to save his life anymore. If either of them came close to 30 though, I'd put them ahead of Wilson just because of how much they've done for action in general, DTV and Big Screen. On the other hand, for all the movies Wilson's done, how many were that great? He has a signature series in
Bloodsport
, but can you think of a Wilson flick you'd put in your top ten of either the 1990s or the 2000s?
It makes for a good debate in any case-- maybe I'll write a 30-page thesis on it, but right now I'll wrap up this post and get us out of here. Not a good movie, but intriguing because it's a PM Entertainment family film with John Savage as the heel, and Wilson in a bit part. Probably for completists only. It's currently available on Netflix Watch Instantly for those in the States (and those not pissed that Netflix is raising their rates again!), and that's a pretty risk free way to see what it's all about.
For more info:
http://www.imdb.com/title/tt0236304/