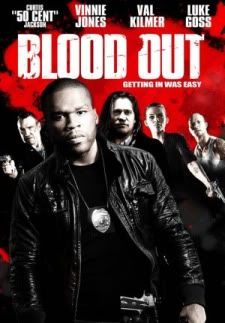 I don't know what happened with this one. I had it on my radar, then totally forgot about it, then our buddy from down under, Simon at
Explosive Action
, reviewed it, but that was like a full three months ago. It's funny how a movie can get lost in the shuffle like that. Let's see if it was worth the wait.
Blood Out
is your classic
Hellcats/Stone Cold
style scenario, with Luke Goss's brother killed by a drug cartel, and Goss goes out and gets him a couple sleeves of tats and infiltrates them to get his revenge.
50 Cent
, Vinnie Jones, and
Val Kilmer
also appear.
This was a not-so-much for me. The action was pretty solid, and until the end fight with some odd looking gladiator guy, looked good and wasn't overly MTV edited. The big thing that got me was how bad the dialog was, and how much of it we had to slog through. One scene with Goss and Tamer Hassan was mindnumbingly atrocious, and the whole time I'm expecting a payoff, like maybe Hassan finds out what Goss is up to. Nope, it was just a "we think we write quality dialog and we're going to inundate you with it until IQ drops ten points." Come on man. The other thing was Goss as the hero. It wasn't just that I'm trying to believe a former boy bander can rock a sleeve of tats and a cigarette without any irony, but earlier on we're treated to a scene where, dressed in his Mayberry sheriff's deputy outfit, gets his ass kicked and tased by 50 Cent, then is handcuffed to a men's room sink. You can't cut that many cool points off your hero and expect him to recover-- especially not when he's already starting behind the 8-ball.
This is bait-and-switch city. 50 Cent: 1 and 1/2 scenes. Vinnie Jones: one scene at the beginning, a little more screen time near the very end. Val Kilmer: half scene near the middle, then shares a bunch of screen time with Jones, also at the very end. Instead we're treated to a guy from a national vodka commercial, sold to us as equally hardcore as Goss, and a bunch of extras from the sets of P.O.D. videos. Now, there are two variants of the cover-- or maybe one is a poster and the other is the cover-- and I included the version (the one I think is just a poster) that features Goss, and as such is more honest and less shady to us the consumer; and then there's the one that you see here, which is what most American renters will see, which has 50 cent, Kilmer, and Vinnie Jones out in front, and Goss buried in the back. I mean, how am I supposed to take Luke Goss seriously as the lead if the people distributing the movie can't even do it?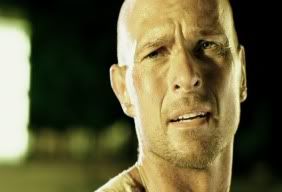 To be fair to Goss, when rocking the sleeve of tats and smoking, he wasn't so bad as the hero. I don't know, the whole squinting like he smells something funny all the time, the designer jeans and Abercrombie Gay Chic form fitting three-button henleys, the fashionable five-o'clock shadow and shaved head, it's all very "Dude in Vegas with his buddies checking out the UFC PPV." And again, if the people making the movie don't think he's worthy of selling it to us, why should we? So he starts the movie with that many strikes against him, and then the film has him weakly standby as 50 Cent beats him up, tases him, and then handcuffs him to a bathroom sink, all while he's wearing a cute little sheriff's deputy outfit-- also formfitting, like he's a stripper heading to a bachelorette party. What this movie needs-- and all other Luke Goss films for that matter-- is to infuse some of that natural English charisma that us Americans love. A thick cockney accent, lots of smoking and lots of tats (which this movie got right), and then crank up the soccer hooligan-ness to ten. I don't want an American jackass as my hero, so why try to make Luke Goss into one?
When last we saw 50 cent and Val Kilmer, they were in the excellent
Streets of Blood
. This is obviously nothing like that. No gritty crime drama, just re-tread of well worn territory, and lacking heavily on the Kilmer and the 50 Cent. But what
Streets of Blood
shows is that it is capable to make good DTV; and even when we're working on well worn territory like this was, it's still possible to make it good-- the action in this is testament to that. But again, I can't help going back to this: how seriously can you expect us to take your movie, if you're featuring on your cover two actors that have a combined 10 minutes of screen time? You can't think it's very good yourself, otherwise you wouldn't stoop so low to trick us.
I want to go back to Val Kilmer, because I really liked him as the bad guy here, even if he's barely in the film at all. He needed to be the head baddie and the focal point of the film, and Goss needed to be trying to take him down. Those bad dialog scenes would've been much better with Kilmer making the best of them, and a lot of the other weirdness of the film, like the grafted in S&M stuff, would've been handled much better by him too. Here's the thing, if you're going to have a person of Kilmer's talent in the film, you gotta use him, otherwise his scant screen time will be enough to make the actors you're giving bigger parts to look amateurish by comparison.
This had the action down-- for the most part-- but there wasn't enough, and the bait-and-switches combined with a lack of faith in Luke Goss and/or a script that emasculated him early on spelled a recipe for movie sautéed in wrong sauce. Too bad, because it looked like they had the raw materials to make something fun, just not the quality of execution.
For more info:
http://www.imdb.com/title/tt1477675/