I first saw this during TNT's movie block that used to follow Monday Night Nitro. For my money, that block combined with TNT's Joe Bob Briggs show on Saturday nights made TNT the premier bad action, horror, and sci-fi movie channel on cable in the late 90s, even slightly better than USA's
Up All Night
-- which was still pretty solid on Fridays and Saturdays, don't get me wrong.
Project Shadowchaser II
doesn't exactly pick up where part one left off. Whereas part 1 felt like it took place in the future, this one feels more like the present. Either way, what we have is a nuclear facility taken over by our favorite android,
Frank Zagarino
, this time so he can get his hands on some nuclear weapons and blow everything up. To stop him, we have hapless drunk maintenance dude
Bryan Genesse
, along with scientist Beth Toussaint and her son (annoying kid alert!). That's about it.
This is as close to a paint-by-numbers
Die Hard
rip-off as you can get. Christmas Eve? Check. Geeky guy hacking into computers and using sports references? Check, this time in the form of DTV action mainstay Todd Jensen. Firing rockets on the cops? Check, Mr. Zagarino does the honors using a few SAMs. Other than that, this is pretty original, right? I was torn on
Project Shadowchaser II
actually, because on the one hand, it ramps up the bad action factor of the first one pretty well, from the railing kills and hatchets to the foreheads to roundhouse kicking flaming stuntmen to the shimmying scientists blasted with machine gun fire, this hits all the spots-- hell, even Santa gets it. On the other hand, there's a lot of stupid stuff, like the kid-- seriously, who watches
Die Hard
and says "you know what this is missing? An annoying kid!"-- and the ending where Beth Toussaint is able to out-muscle an android with superhuman strength. It feels like for every great thing the film did, it mailed it in on something else.
Gotta love Genesse though. No one does all-American Orange County pure-bred varsity letterman high school quarterback like him-- which is great considering he's Canadian! He does us better than we do, doesn't he? But that works so well when he's driving a vintage muscle car and talking baseball and staring at the baddie with a silly look on his face, or telling Beth Toussaint she has a nice ass under his breath. On top of that, he's a great martial artist. Roundhouses left and right, great hand-to-hand stuff, and a pretty solid end fight with Zagarino. Genesse is definitely a guy I plan to do more of in the future, and I have a few in mind to go to, so don't worry.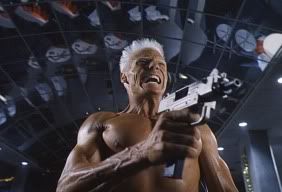 Mr. Zagarino, building on his performance in part one to give us something even better: a sense of humor? Absolutely. Man Frank-- can I call you Frank?... all right, sorry, Mr. Zagarino-- have you been holding out on us? Not just a sense of humor, but an all around great baddie. Yes, the no shirt under the leather jacket was a tad obnoxious, but hey, obnoxious is what we're here for, and it looks great with the rest of the Susan Powter motif, so rock on. Frank Zagarino, where have you been all our lives?
We're back with the annoying kid factor again. I want to make clear, this is not an indictment of the people who played these annoying kids, it's an indictment of the whole concept. What is a kid doing in an action movie? Getting in the way and being annoying. That's it, that's the whole purpose, and for me, a plot device that's only purpose is to annoy is useless and a detriment to the film. To every action writer out there drafting up treatments, if a kid is in your plot, hit the damn delete button and save us a lot of pain. Thank you.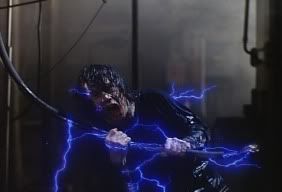 I'm a moron (I'm sure a lot of you are reading that and saying "no shit!"). Here I am so worried about capping an image of Ted Le Plat, the guy who played the reporter in
American Kickboxer I
and it's unofficial sequel
To the Death
, that I didn't know Gavin Hood was in this as well, and by coincidence just happened to have capped an image of him getting electrocuted, which is okay, but you can't see his face. Don't know who Gavin Hood is? He directed
Tsotsi
, a South African film that won for best foreign language picture at the Oscars in '06 (and made my top ten of the oughts), and also directed
X-Men Origins: Wolverine
. Yep, and I never thought to check imdb before I sent the DVD back to Netflix, meaning that pic is the best one I have of him from
Project Shadowchaser II
.
But that's neither here nor there. This one is available on DVD as part of a double feature with part three-- which I'll get into when I write the review for it. I don't know, I think for all its faults, this does all right. I think it would be cool if this were paired with part one though, because they'd make a great bad movie night double feature, but unfortunately that isn't the case.
For more info:
http://www.imdb.com/title/tt0110901/