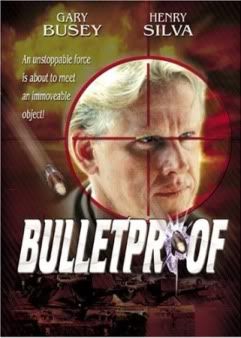 "Matt, say it ain't so! An Adam Sandler buddy pic on the DTVC? It's not April 1st, is it? Did someone hack your Blogger account?" Nope, it's me here, you just have the wrong
Bulletproof
. This is one that features DTVC Hall of Famer
Gary Busey
and DTVC fave baddie
William Smith
. We're gonna be okay, I have no plan to sell you out for the short end cash reviewing bad Adam Sandler and Rob Schneider comedies. Also, our buddy Ty at
Comeuppance Reviews
has covered this one-- not the Sandler one either.
Bulletproof
stars Busey as McBain, a crazy, fly-by-the-seat-of-his-pants police officer that makes his partner guzzle Pepto and his chief swear up a storm. Anyway, for some convoluted reason, the US military has purposefully sent a high-tech tank to Mexico to be captured by insurgents, along with the troops guarding it, one of whom is Busey's old flame-- Darlanne Fluegel, not LQ Jones, though the latter would've been awesome--, and it's with her capture that Army intelligence recruits Busey back out of non-active duty to be a "one-man suicide squad" (his words, not mine) to get them and the tank out, and destroy the insurgents.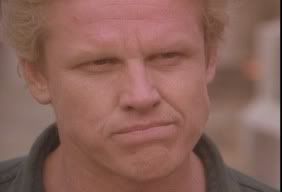 This started off like it might be the best Busey film this side of
Point Break
, and then it did something unfathomable: it went away from Busey and stuck us with some boring developing story surrounding the prisoners. What? But I thought this was a too sweet Busey flick, how could you do that to me? On top of that, as the action got rolling again in the last 20 minutes or so, a good chunk of that was wasted by some crummy rigmarole about how Busey and his woman don't know how to use the tank. Come on guys, cut that shit out. It's Busey, he should just be able to drive it. Get on with things. It felt like watching a soccer game between Barcelona and Real Madrid, where I'm like "stop diving and pretending you're dead and play the damn game, you're annoying me!" This was annoying me too.
And that's a damn shame, because this had some too sweet Busey moments. First you have the opening scene. Busey up on a scaffolding telling
Danny Trejo
"I'm your worst nightmare butthorn!", and everything immediately after lives up to that line! The shootout, the chase, Danny Trejo throwing grenades out the back of an ice cream truck, then the explosion, and the angry police chief lecturing Busey. I was hooked. I wasn't expecting to get more LQ Jones and Darlanne Fluegel shackled in a dirty bombed out church plotting escapes and being defiant to baddie Henry Silva than I was more Gary Busey kicking ass. Then I thought we might be back in business around the hour mark, when Busey is roped to an enormous wooden cable spool, which Fluegel detonates a grenade next to, sending him rolling off into the sunset. Amazing! But then we're back to more silliness with the captured troops, followed by the annoying "we don't know how to run this thing!" when we know full well you're going to know how to run that thing. I'm sorry, but you can't give me that first scene and then mail it in for the rest. Come on Butthorn, let's get real here.
They kind of snuck William Smith in here on us. He's listed in the opening credits as "Bill Smith". Sneaky bastards. Not only that, but in his first scene he plays a
Mannix
villain whose partner is none other than
Cary-Hiroyuki Tagawa
. It was so fantastic. Then, to make it more fantastic, he shows up in the end as a Russian military officer. Yes! How does someone make a movie with this level of awesome combined with such an enormous level of suck? I blame you, story writer
Fred Olen Ray
, I blame you.
I liked Henry Silva as the baddie, but they went too far and made his character too dark and realistic. I didn't get it. Load him up as a big time DTV baddie and let 'er rip. He was too obsessed with Darlanne Fluegel. He needed to be obsessed winning, like Charlie Sheen. I don't know what his ethnicity was supposed to be either. Arab? Italian? Korean? That part was good. Him raping Darlanne Fluegel, not so much.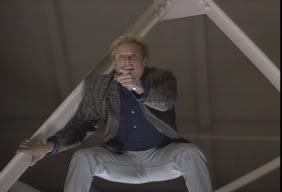 I had to wrap up with "I'm your worst nightmare Butthorn!" Utterly fantastic, but when a film maker tosses something like that in, that's a lot to live up to, especially when it's at the very beginning. They spent that nickel too soon, but because they spent it so freely, we thought they had all kinds of cash, only to find that that was it, and we were stuck paying the bill. But that should in no way diminish how great a scene that was-- if only they could've built on it, as opposed to forgotten about it completely.
If you can get this cheap-- and that's very cheap, like almost free--, I'd do it for the great opening scene, and a few other great Busey moments. Overall though, it's more blah than butthorn, which is a shame, because it could've been fantastic. You decide how much it's worth it.
For more info:
http://www.imdb.com/title/tt0094813/