I got this from Netflix as a part of a two-pack with
Project Shadowchaser II
. With only
Frank Zagarino
to tie it to the others-- that and I guess the guy who played the creepy womanizing orderly in
Project: Shadowchaser
was in this as one of the shipmates-- the whole thing seemed rather dubious, but the first two were pretty good, so I crossed my fingers.
Project Shadowchaser III
takes place in the future, when a a ship called the Siberia goes missing. 25 years later it returns, on a collision course with a space station orbiting Mars, much to that crew's chagrin, considering they're two days out from going home. They link up with the ship to investigate, and find a mysterious, killer presence, in the form of a shapeshifting android, our old buddy Frank Zagarino. Can they make it out alive?
How many movies can you rip off in 90 minutes? Well, let's see. There's
Alien
,
The Thing
,
Terminator 2
,
Solaris
... that's four. I'm sure there're others, but that's enough for you to get the point. In DTV, it's okay to rip off other, bigger, more famous projects, as long as the movie is fun. This wasn't. It was really unremarkable, with nothing special, nothing over the top, a few funny bad movie moments, but beyond that, just a big ol' pile of blah. Not to mention, there was a lot of grossness, with Zagarino's android character's skin melting off and stuff. The only bright spot was Musetta Vander as the heroine, a Russian scientist on the space station, but that wasn't enough to save the rest of the film.
We had a major Zagarino bait-and-switch. They list Christopher Atkins's part as a "special appearance", even though he's in most of the movie. Zagarino should've been the "special appearance", and it should've been as the "Terminator Rip-off". None of the fun character we loved in the first two-- in fact, due to his odd shapeshifting abilities, he's often played by another actor. Whose idea was it to take the entire foundation Zagarino had built with this character over two movies, and dump it in favor of a bunch of cheap rip-off sci-fi characters?
The late Sam Bottoms is in this. Who is that you ask? None other than
Timothy Bottoms's
younger brother. I was going to go into a whole thing about how bad it is if you're leading man's claim to fame is that he's Timothy Bottoms's brother, but I saw on imdb that he died of brain cancer in 2008, and I felt like that would be in poor taste. Still, look at the progression:
Martin Kove
,
Bryan Genesse
, Sam Bottoms. In the female lead we've stayed pretty consistent, right?
Meg Foster
, Beth Toussaint, Musetta Vander. I was about to say "what, Frank Zagarino wasn't available?"... oh yeah, that's right-- though how cool would have been with him in the lead fighting an android built in his image?
You know when you fire up a movie, and the make-up effects or special effects coordinators get into the opening credits. It means the film makers have some crutches they plan to lean on in lieu of a solid story or great acting. In this case, it was vintage late 90s CGIs and the aforementioned gross skin melting as Zagarino the android changed shape. The thing is, in both cases, the effects weren't that great anyway, so to then ask them compensate for much bigger inadequacies was too much for them to bear. The reality is, both the computer and make-up effects can be horrible, as long as the film is fun, it'll still work.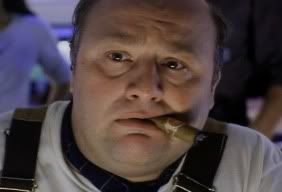 We have a TGIF alum, Bill Kirchenbauer, also known as Coach Lubbock from
Just the 10 of Us
, the
Growing Pains
spin-off. He plays Wheels, a cigar smoking ship worker confined to a wheel chair, which goes all Christine on him and drives him to his death. That show,
Just the Ten of Us
, had two of
Michael Dudikoff's
female leads, Heather Langenkamp of
Nightmare on Elm Street
fame was in
Fugitive Mind
, and Brooke Theiss was in
Quicksand
. Another note on Brooke Theiss, she's married to Bryan Genesse, the star from the previous
Project Shadowchaser
.
The thing is, I think part 2 is worth a look, and if this is packaged with it, you might as well give it a whirl. On its own, though, I'd stay as far away as possible. Hopefully sometime they'll package parts 1 and 2, which makes more sense, because they're more alike-- and both of a higher quality.
For more info:
http://www.imdb.com/title/tt0114192/