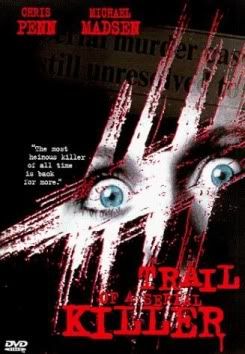 This one first came on my radar in a search of
Don "The Dragon" Wilson
on imdb, and now that we're almost done with his DTV filmography (after this we'll only have the
PM Entertainment
family film
Hollywood Safari
), it was high time I got around to reviewing it. Problem was, it took Netflix forever to send it, finally shipping me a copy from Hartford after weeks of waiting. Good work out of you guys.
Trail of a Serial Killer
follows
Chris Penn
as a disgraced FBI agent, called back into action by old buddy
Michael Madsen
after a serial killer Penn chased for years resurfaces. He's killing chicks and severing their body parts. But why? What is the motive? And how do they find him? There's a connection with psychologist Jennifer Dale's group therapy sessions. Is there a killer among them?
This was a plodding, more blah than good, suspense thriller yarn. Penn and Madsen were solid, but the material was well worn, no matter how much they wanted to spruce it up, and there was a bunch of extraneous BS concerning Penn's estranged family that the film could've done without, especially since they never dovetailed back in with the rest of the film. I don't know, I just need a little more than simply the killing of young women. I'm funny like that.
I was considering not starting with Mr. "The Dragon" Wilson, because he's only in the film for one scene and that's it; but he is also the film's one DTVC Hall of Famer, so why not go for it. One scene, that's it. No bait-and-switch, though, because he isn't splashed all over the cover, and doesn't even make the first page of credits on imdb; more like it's just a novelty that he has the cameo. What I hope this review does do in terms of Wilson, though, is keep anyone from seeing it listed on his bio and thinking he's in it for more than just the one scene.
I went second with Michael Madsen, even though he isn't the main star, Penn is, because Madsen is so cool-- notice the
Reservoir of Dogs
look he's copping in that image above. If anyone can play the Noir-ish detective in a sexy-- or not so sexy, but preferably sexy-- suspense thriller, it's him. Too bad he had to play second fiddle to Penn, because had they switched the roles, it would've added a completely new dimension to the film.
Not that the late Chris Penn couldn't hold his own here, just that he's no Michael Madsen. Still, he does pretty well, except for when the writers tossed in those inane digressions about his estranged family, which did little more than annoy and distract me. Also, as you can probably tell from the picture, Penn was rather husky. Juggly, doughy, pudgy, whatever adjective you want. At the end of the film, he has this bloody, jiggly running scene that wasn't doing him any favors. Not sure whose idea that was, but it was an idea sautéed in wrong sauce-- or hilarious sauce if you're us, the viewer.
WARNING: THIS PARAGRAPH CONTAINS SPOILERS. READ ON AT YOUR OWN PERIL!!!
One of my pet peeves is the killer twist where we find out our murderer wasn't a guy, but a woman, and we're supposed to buy that a male stuntman that was running around tackling and manhandling people much bigger than the actress that is revealed to be the killer, could've done that. Seriously, earlier in the film, the killer knocks down Chris Penn. A 100-120 pound woman is dropping Chris Penn? She'd bounce right off him! And what annoys me more is how the film makers are like: "see how clever we are? You thought only a guy could be a killer!" No, I thought only the 6-foot-tall 200 pound stuntman who was running around as the killer would preclude any 5'3" 100-pound women from being the killer. Silly me.
This isn't an easy get from Netflix, but Amazon has it both new and used on DVD and VHS for not very much. The problem is, anything more than free isn't worth it. Other than Penn and Madsen, this is pretty run-of-the-mill, and even with them the material is so bad that it can't be saved. Too bad, because those two could've been great.
For more info:
http://www.imdb.com/title/tt0119856/