Daniel Bernhardt
is very close to making the DTVC Hall of Fame. In evaluating him as a candidate, neither his work on the Mortal Kombat show on TNT or his cameo in the
Matrix 2
can be taken into consideration. One big selling point for him so far is the fact his film
Future War
was used in an episode of MST3K.
And another big selling point for him is this film,
Bloodsport 4
. For the most part the film is crap, even for DTV. But it has one thing that makes it great: the bad guy is Ben Franklin. That's right, the dude on the $100 bill; one of our founding fathers (framers). Ben Franklin is the mastermind behind the Dark Kumite.
The film is simple: take one part
Death Warrant
, one part
Bloodsport 2
, mix in a little Eastern European city that's supposed to pass for an American one, and top it off with Ben Franklin. It's really not a bad deal.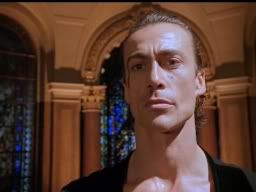 Bernhardt plays a cop who tries to catch a guy, then goes undercover in a prison, where he's press-ganged into the Dark Kumite by the prison's warden, who's working for Ben Franklin. He's got a hot chick for a partner, and she dresses like a nun to communicate with him while he's on the inside.
This movie was as bad as the description makes it sound. There's a guy who killed a cop. He's a good fighter too, and of course Bernhardt must face him in the Dark Kumite. We, the viewer, expect the bad guy to try and cheat in order to beat Bernhardt who outclasses him. In fact, it's the other way around: Bernhardt is outclassed by the bad guy, and must kick a pen through the guy's ear to beat him. I'm not kidding. It would be like in the first
Bloodport
if in the final battle
Van Damme
threw the powder from a crushed Alka Seltzer tablet in
Bolo Yeung's
face to blind him. I was left with the feeling of going to McDonald's and having the kid behind the counter act like he's better than me, but not being able to do anything about it for fear of someone spitting in my food.
That being said, the head bad guy is Ben Franklin. It just takes all the unbearable and makes it fantastic. This movie is a hit wherever I take it for that reason alone. I don't know what the people who made the movie were thinking, but I like to believe it was "Jesus, that guy looks just like Ben Franklin! We gotta hire him on as the head bad guy!" One of my friends liked it so much, he decided to hold his own Dark Kumite.
You should be able to get this for $5. I think I found it on Amazon for that much. It's well worth it. I've actually owned it twice. My parents bought me a VHS copy of it for my birthday (that's when I was first introduced to it), and when I lost that, I bought it again on DVD. If I was a high school US History teacher, I'd show it in my class, and I think other US History teachers should show it too. I don't care if it's not on the AP test.
For more info:
http://www.imdb.com/title/tt0172184/