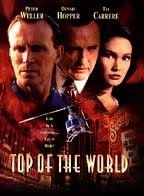 I don't remember how I first got wind of this gem. It could've been in an imdb search of Peter Weller. A buddy may have told me. It could've been the Tia Carrere factor. I'm just not sure. What I am sure of is I'm glad I went onto Amazon and snatched this classic up.
Top of the World
is a
Die Hard
ripoff that takes place in a casino and has Peter Weller as the hero. Dennis Hopper owns the casino, with Joe Pantoliano as his right hand man, and Peter Coyote as the mob bus who funds him. Then there's Tia Carrere who plays Weller's ex-wife (Weller was framed and put in jail when he ratted out crooked cops), yet she's dating Hopper. Then Martin Kove and some bad guys come in and take the place over to rob it. That means Cary Tagawa and his swat team storm in to take them. But Hopper won't let them, because he's in on the cash grab. Oh yeah, and David Allen Grier is already at the casino as a cop investigating a suicide, and he's the only one who believes Weller's innocent. Oh, I forgot to mention everyone thinks Weller's in on the robbery.
The star power alone makes this film so memorable. I couldn't believe it when I saw it. How can you go wrong? Who cares if it's
Die Hard
in a casino? Weller as the top star was perfect. In one scene he's driving around the casino with Carrere in his car. In another, he's riding on the top of an armored van or something. It's vintage Weller.
Hopper is sweet as the casino owner. He and Joey Pants play off each other well. I can't think of a better baddie for a movie like this. He's much better here than in that Costner sack of asscrack
Waterworld
. I can't for the life of me understand how a
Waterworld
is greenlighted as a full run picture put in thousands of theaters, and a gem like this can't get a sniff of that kind of run. It's just ridiculous.
It was weird having a Cary Tagawa that wasn't exactly an antagonist. He played this kind of dumb-as-a-fox SWAT team leader that everyone thought they were better than, but who had a firm grasp of the situation. I'd like to see him and Weller work more together, maybe with Dolph thrown in. He also got to work with Tia Carrere again
(Showdown in Little Tokyo),
only this time he didn't chop any of her friends' heads off.
This film is just pure good old fashion bad action, and it's unabashed in the way it's carried out. As a fan of bad action, I hold a picture like this in the utmost regard. They just don't make 'em like this anymore.
You should be able to find this in the $5 at a place like BestBuy. It's so worth it, you don't even know. I'd skip renting it, in fact, and go straight to owning it, because you'll want to rent it again anyway, and you'll just end up wasting the rental money.
For more info:
http://www.imdb.com/title/tt0120353/