I'd been hearing about this movie for a long time. As a big time DTVer, people wondered why I hadn't caught it yet. It's a classic in bad action/sci-fi circles. I think it's technically not a Direct to Video movie, because someone told me once that he saw this in the theater. I did some research on it, but I'm still not sure what to believe. Either way, I finally got my chance to see it just this past summer, when the girlfriend of the friend I was staying with had it. Let's just say it was well worth it.
I'm going to try my best to explain the plot, but it's very difficult to believe. In the future, the US, a country with one of the largest percentages of uninhabited land in the world, has a population crisis. Even crazier, Americans flee to Mexico to have children. Lambert and his wife try this, but get caught, and are sent to a maximum security underground prison run by the dad from
That 70s Show
, also known as the bad guy in
Robocop
. Eventually Lambert and his wife escape, and the border with Mexico goes from being the high security affair it was in the beginning of the movie, to a chain link fence.
One of the greatest security measures used to keep the prisoners in line is intestination. It's fantastic. There's a probe inserted in through the mouth, and sits I guess in the intestine. When a dude gets out of line, he gets intestinated. It's like those commercials, you know, "diarrhea is a like a storm raging inside you." If the guy from
Robocop
gets pissed enough, he'll make the whole abdomen explode. Intestination.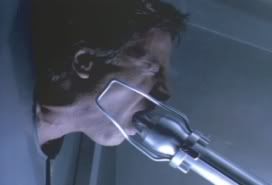 This movie is hilarious on so many levels. I think the best was the very end, when the Mexican border is just a chain link fence. The obvious question is: why didn't they just cross there to begin with, instead of crossing in the high security area and risk getting caught? I know, of course, the answer is that the people who made the movie ran out of time and money, so they just wrapped it up quickly. To take from MST3K's
Attack of the the Eye Creatures
, "They just didn't care."
But Lambert is a DTVC Hall of Famer for a reason, and this one, like
The Minion
, would have been unbearable if made as a big budget action movie with Will Smith and Martin Lawrence or Nicholas Cage and John Travolta. I watch a
Fortress
because I know it's dumb as hell, and my friends and I love laughing at it. There really is no shortage of material to work with in this one, and the major drawback might be keeping you and your friends from talking over each other. I know my buddy and me were just killing it.
This lived up to its billing as one of the great bad films. There's really no reason not to have it or rent it if you haven't seen it before. If you watch it alone, though, you'll probably be so annoyed with how dumb it is, you'll hurt someone and get sued and end up on
Judge Judy;
or get a serious stomach ulcer that feels like you're being intestinated, both of which is the last thing you want. Definitely only view this with one or more other people.
For more info:
http://www.imdb.com/title/tt0106950/