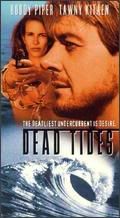 My buddy bought this on VHS when he found out it had DTVC Hall of Famers Rowdy Roddy Piper and Miles O'Keefe in it. He brought it over one night before we were headed to Boston, and the whole next day this film was all we could talk about. It's that good.
Dead Tides
has not only those two DTV legends, but also Tawny Kitaen and Trevor Goddard. Tawny is the chick from the Whitesnake video who danced on the cars, and Trevor Goddard is the guy who played Kano in
Mortal Kombat
with Lambert. If you include his work in
Men of War
with Dolph Lundgren, he's had the distinction of working with four DTVC Hall of Famers. Not too shabby.
The movie's about Piper, a yacht sailor, who's recruited by Kitaen for her drug dealer boyfriend to smuggle drugs into the country. Goddard is the Coast Guard guy who's sleeping with Piper's ex-wife. Miles plays the ATF guy who wants Piper's help in taking down the drug dealer. You've probably seen the rest of the movie in other drug dealer/double cross films, so I don't need to tell you what happens. Who cares anyway with that kind of stellar cast?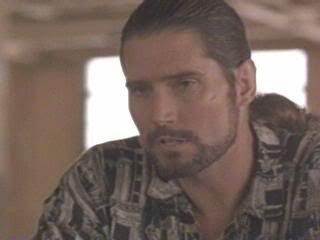 One of my favorite parts was early in the movie, when Goddard trashes Piper's boat and throws him in the water. Another great one is when he takes down the drug dealer's henchmen one at a time after the dealer screws up his execution of Piper. It's just good to see him in the movie.
It lacks a bit of Miles, and that's disheartening. Of course, in
Marked Man
we get plenty of Piper and Miles, so maybe I'm just being greedy... yeah, I'm just being greedy. What I'd really like is an off-beat cop drama with Piper and Miles as partners, only they dress like Rowdy the wrestler and Ator. A guy can dream, right?
I think you know where I'm going with this. Buy it, rent it, do whatever you can to see this. On the open market, you should be able to buy this used on VHS for no more than $5. I don't know if it's on DVD, but as far as I know it ain't. Either way, it's a solid deal. Just remember who you're getting: Miles, Rowdy, and even Kano. As Billy Ocean would say "Simply... awesome."
For more info:
http://www.imdb.com/title/tt0161485/