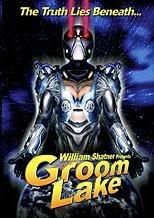 I don't remember how I got wind of this film directed by and starring William Shatner, but I did, so I thought I'd keep my eye out for it. I eventually saw it on Sci-Fi, which wasn't a bad deal.
Groom Lake
is about a young couple who travel out to the desert to spend the rest of their time together, because the girl is dying. They end up in a small town, where the two are caught up in the paranoid town members anti-alien sentiments, and Shatner and his buddy Dick Van Patten's attempt to help an alien get home from a military base. The girl is captured by Shatner when he thinks she and her boyfriend were spying on him, and the boyfriend must team up with one of the paranoid villagers to rescue her. Then they find out Shatner's the altruistic one, while the paranoid villager kidnaps the alien to take into to town so he can make himself famous, right as Van Patten's about to prepare the alien ship for take off. In the end, the alien makes it, and before he goes, he tells the girl that she's not dying, but moving onto something better when her human form goes.
The Shatty factor was a tad lacking in this. You can kind of feel him in the film when he's not on screen, and I guess that's all right, but it's not as cool as seeing him on screen, delivering lines in his classic pausing style. I'm surprised, considering the high regard with which he seems to hold himself, that he didn't put himself in the film more. I mean, it's his film.
The female lead, played by Amy Acker, is hot. For a good chunk of the film, Shatty Shatty Boom-ba-Latty has her wearing these tight vinyl pants with a snakeskin print on them. It makes no sense, for a woman whose seems to be really down-to-Earth, to be wearing pants like that on a long road trip; but I looked at that as a little Shatner touch, and I can't complain about it. I never really watched the show
Angel
, but I guess Acker was a mainstay on that show. Not a bad deal.
As far as the actual movie goes, it's a pretty silly alien invasion film, except for one really odd scene. The Acker's bopyfriend drives them out into the desert to camp, and he flips their Suzuki off-roader with some bad driving. He leaves her to go get help, and while he's gone, she's sexually assaulted by some townsfolk. I guess the idea was they were stripping her down and groping her to see if she was an alien or not, but it was kind of disturbing, especially for a girl who was terminally ill. It was completely out of place and left a bad taste in my mouth.
Other than that scene, this wasn't so bad. I think Shatner was going for the 50s sci-fi tribute with a little Descartes and Nietzsche thrown in. If it had more Shatner in it, it would've been even better. It was pretty nondescript, with nothing special other than the Shat in it, or if you're a
Buffy/Angel
fan
,
Amy Acker
.
Otherwise, you'd have more fun watching MST3K's
Prince of Space
or
Invasion of the Neptune Men
.
You should do what I did on this one, and catch it on Sci-Fi the next time it's on. It's too blah to spend any money on it, even for the Shatner Factor. I probably wouldn't TiVo this either: just see it if you're up when it's airing and you're not doing anything else. Maybe while you're writing a paper at 3am.
For more info:
http://www.imdb.com/title/tt0270393/